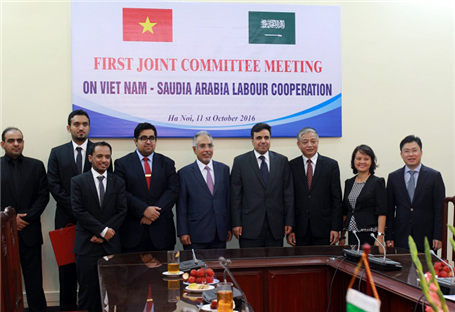 Attending the meeting were Dakhil A.R.Al Johani, Ambassador Extraordinary and Plenipotentiary of Saudi Arabia; leadership representative of Department of International Cooperation, Department of Overseas Labor and some others related units.
At the meeting, two sides actively discussed on the solutions to minimize the risks for Vietnamese laborers working in Saudi Arabia. Both ministries share the hope to boost labor export activities from Vietnam to Saudi Arabia in the near future.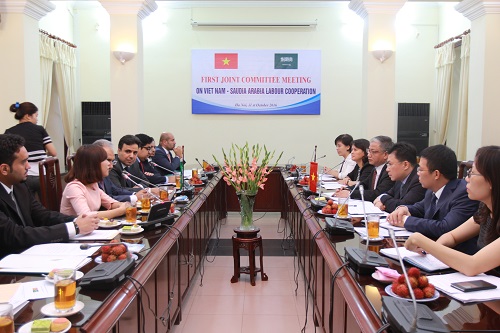 Deputy Minister of MOLISA Doan Mau Diep appreciated the ongoing labor cooperation between two countries. More than 20 thousand Vietnamese workers are currently working in Saudi Arabia in such areas as construction, manufacturing, mechanics, transportation, hospitality and domestic help. He also expressed appreciation for Saudi Arabia's measures to protect the rights of foreign workers such as The Wages Protection System (WPS), worker forum... The Deputy specially stressed that domestic workers need to be paid more attention to because they are more vulnerable than other workers. He proposed Saudi Arabia to get further management measures to protect the rights of Vietnamese laborers working there.
Speaking at the meeting, Deputy Minister of Labor of Saudi Arabia Ziyad Al-Sayegh expressed his glad with the advancing bilateral cooperation between two countries in general and the labor cooperation of two ministries in particular. He said two countries have great potentials for future cooperation, including labor field. He added, Vietnam has abundant skilled workforce who are appreciated for their diligence, high skills, adroitness and honesty by Saudi Arabia's employers. Saudi Arabia always welcomes Vietnamese workers to work in his country.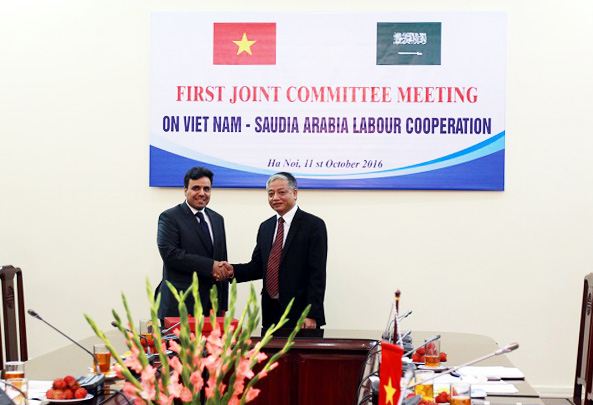 At the end, Deputy Minister of MOLISA Doan Mau Diep expressed Vietnam's gratitude to Ministry of Labor and Embassy of Saudi Arabia for their support in strengthening cooperation relationship between two countries. Both sides shared the mutual hope to boost cooperation, especially in labor and employment, between two countries in the coming time.