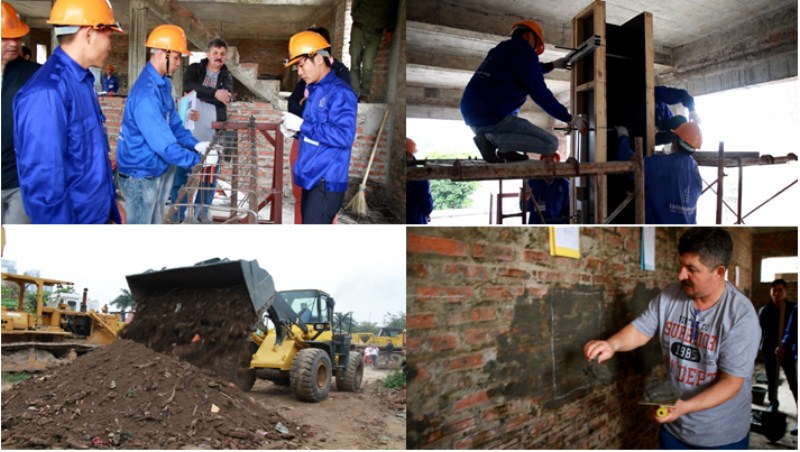 Instalatii SRL is a company specializing in civil, industrial and special infrastructure. The company has extensive knowledge of environmental engineering projects in the waterworks and Waste water treatment plant. The company is involved in large domestic tunnel construction projects, working at highway construction sites and provides construction or renovation projects in large-scale industrial plants. They are one of the companies in Romania that are ISO certified to carry out construction works.
To meet the requirement for a large number of projects for Instalatii SRL company and also recognize the importance of increasing the number and quality of the staffs and workers for the company, Vietnam Manpower was very honor to welcome the delegates of Instalatii SRL to come Vietnam for the direct interviews and trade tests with candidates supplied by Vietnam Manpower on 22nd February, 2019.
Having the cooperation of the partner company and the support form staffs of Vietnam Manpower, the recruitment campaign has been implemented successfully with the result of recruiting over 60 workers: building workers, Shuttering Carpenters, steel fixers, backhoe loaders, shotcrete operators, and foreman.
Before starting the trade test, Instalatii SRL's representative gave Vietnamese laborers an introduction about their company, both parties will work on and answer all questions that were asked by the workers.
The trade test took place in one day with five sections:
| | |
| --- | --- |
| Section 1: Foreman interview | Section 4: backhoe loader |
| Section 2: Shuttering Carpenter | Section 5: Building worker |
| | Section 6: shotcrete operator |
For section 1, the employers tested the foreman position about ability to communicate in English and how to observe the work and to manage the team.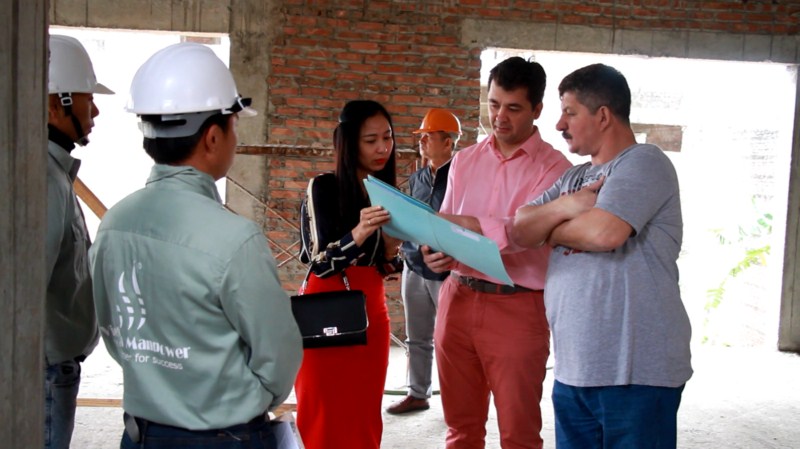 For part 2 selection, the test continued with shuttering carpenters. Candidates for Shuttering Carpenter positions showed that they are qualified enough and know well how to use and manage the machine in their job. Besides, they also proved that they have a really good team work skill and attitude. Together they can create high quality products.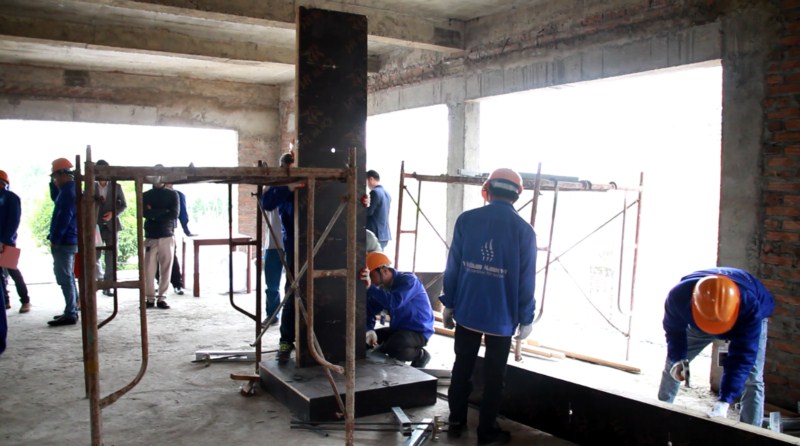 Candidates performed furniture carpenter trade test and the result
Next section was to select steel fixers. This test performed their test by straightening to iron sticks, bending them in square frames and fastening them. All stages were done correctly, in a very fast and secure manner and yet ensuring the examination time was limited.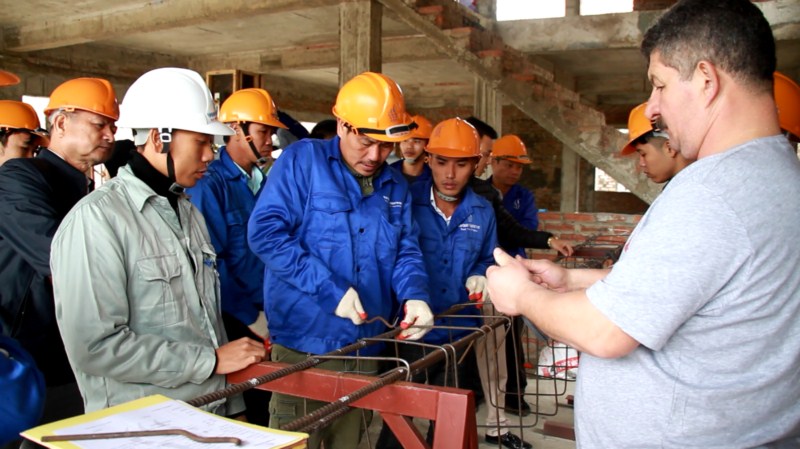 The candidates focused one hundred percent to perform the test.
Building worker selection was the third section. They were qualified enough and know well how to use of mortar spraying and manage the machine in their job. Furthermore, they also proved that they have a really good team work skill and attitude.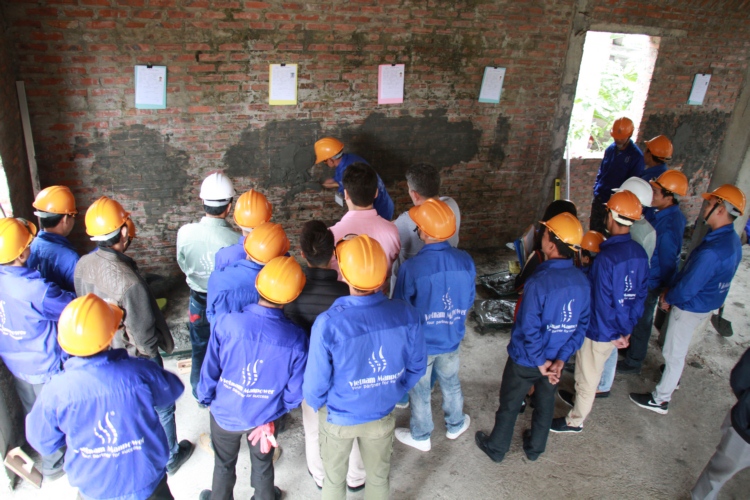 Building worker testing
Backhoe loaders are very common and can be used for a wide variety of tasks: construction, small demolitions, light transportation of building materials, powering building equipment, digging holes/excavation, landscaping, breaking asphalt, and paving roads. All candidates passed the test of this section easily. Employers were very delighted with the results that Vietnam Manpower's workers achieved.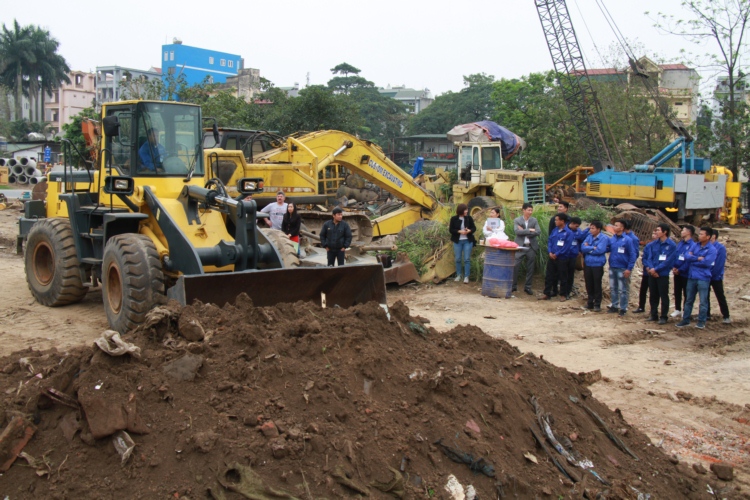 Backhoe loaders testing
The final section was for shotcrete operator test. The representatives interviewed about the experience of operating concrete sprayers, how to operate the machines of candidates. The workers responded very well and expressed their confidence in the oral exam.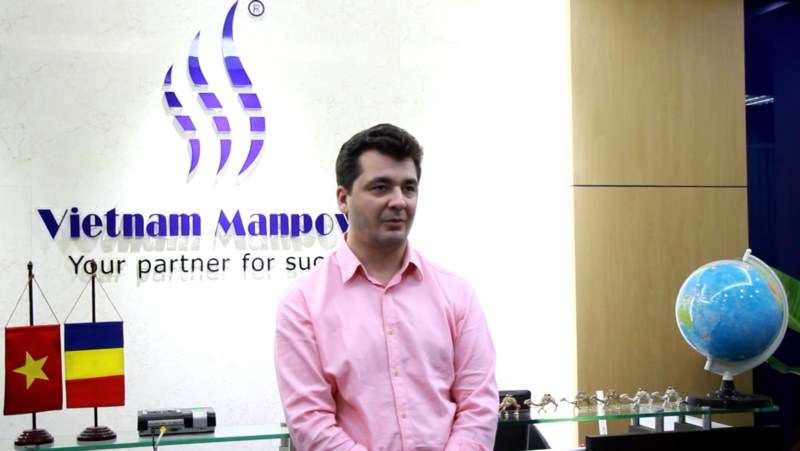 The representatives were very satisfied with the results which the number of chosen employees was various fields. It took only one day to select all of them which much faster than the recruiting in Romania market.
He also said he was surprised at the working quality, attitudes and experience of Vietnamese workers. In particular, he is very pleased with Vietnam Manpower's extremely fast, convenient and professional service. In the future, there will be more cooperation with Vietnam Manpower on the recruitment of labor.
For more information, please contact:
Ms. Lana Phung
Hotline: (+84) 949 594 116
Email: lana@vnmanpower.com