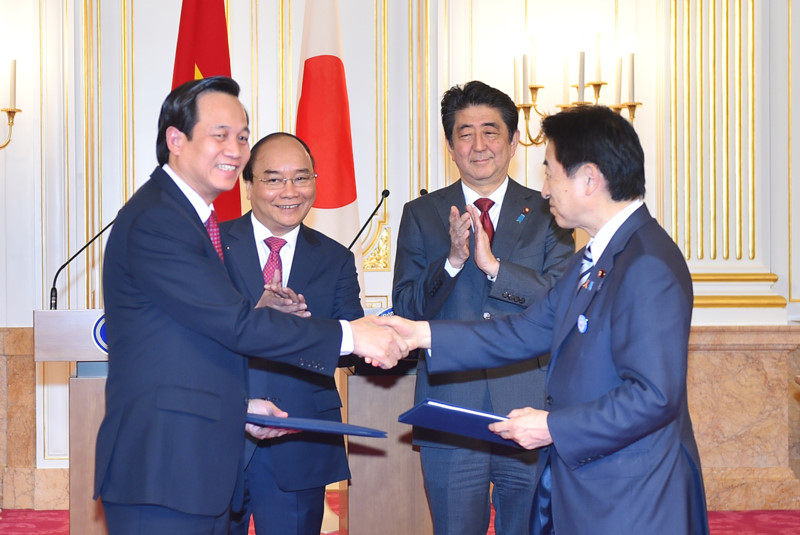 This is the first agreement between the Government of Viet Nam and the Government of Japan in this field, and also the first agreement signed between the Government of Japan and the countries sending interns to Japan, The cooperation between Vietnam and Japan has been growing strongly for recent years in this field.
Previously, in November 2016, the Japanese Parliament passed the Law on the Implementation of Technical Internship and the Protection of Foreign Interns (It's the first time Japan has had rules governing the regime for foreign students). This new law provides for some new contents such as the establishment of an OTIT (State Agency for Management of Technical Interns), which is a state agency under the Ministry of Labour, Health, and Welfare of Japan.
After Japan-Vietnam meeting, in the witness of Prime Minister Nguyen Xuan Phuc and Prime Minister Shinzo Abe, the authorities of Vietnam and Japan and the press, the Minister of Labour - Invalids and Social Affairs of Vietnam Dao Ngoc Dung and the Japanese Minister of Health – Labour and Welfare Yasuhisa Shiozaki signed the memorandum of cooperation.
For three years from 2014 to 2016, Vietnam has brought more than 90,000 trainees to Japan. Estimating, till now, there are more than 100,000 Vietnamese trainees are practicing in Japan.
The MOC between Vietnam and Japan includes the following contents, namely: objectives: identifying the focal point of each party in the implementation, framework and mechanism of cooperation between the two countries; The responsibilities of the Japanese agencies and the responsibilities of the Vietnamese authorities in implementing the cooperation program, the effectiveness of the MOC, and 10 additional appendices detailing the contents of the skill practice program implementation between the two countries.
This MOC will continue to promote the increase of the number of trainees to Japan, training more technical skilled labor with the real experience, working style of Japan and promote Japanese investment in Vietnam, contributing to solving and creating jobs for workers in Vietnam.
Following this program, Vietnam will continue to discuss with the Japan in order to cooperate in the training and recruiting the highly qualified human resources, create the abilities for students and graduates of colleges and universities.
It is known that the MOC will take effect from November 01st, 2017, the authorities of the two countries will continue to discuss related issues to organize the implementation of this program effective and practical, to create favorable conditions for Vietnamese enterprises, organizations and establishments receiving in Japan as well as Vietnamese trainees who going to Japan to practice their skills.
(molisa.gov.vn)