This was the second time Vietnam Manpower received recruitment request from S.C. Construct following the first successful recruitment campaign which sent 60 Vietnamese workers to Romania in 2019.
The first recuitment campaign organized in 2019 was successful.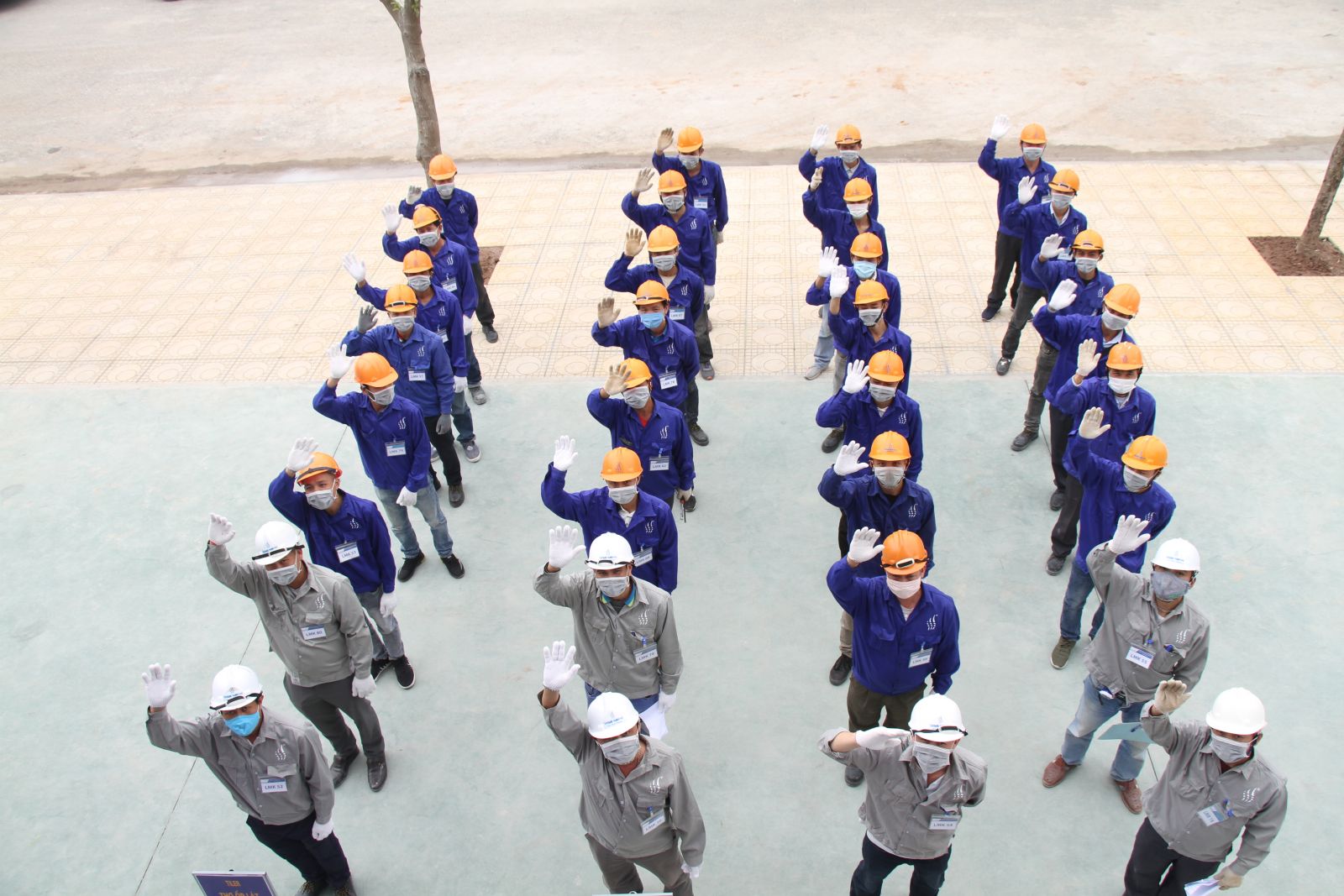 Candidates ready for the trade test
Those workers have given S.C. Construct a very good impression thanks to their hardworking attitute, friendliness, and sucessful adaption to the new workplace in a very short time.
Besides, Vietnamese workers treated the employer with great respect and were wiling to work overtime even on Saturday and Sunday. Each Vietnamese worker may work up to 10 hours per day, which help the company to reduce the amount of workers needed, according to S.C. Construct manager.
"While Romanian labours choose to work under short-term contract and switch job continuously, Vietnamese workers prefer the long-term contract and none of them have intention to find job in other companies or countries", he said.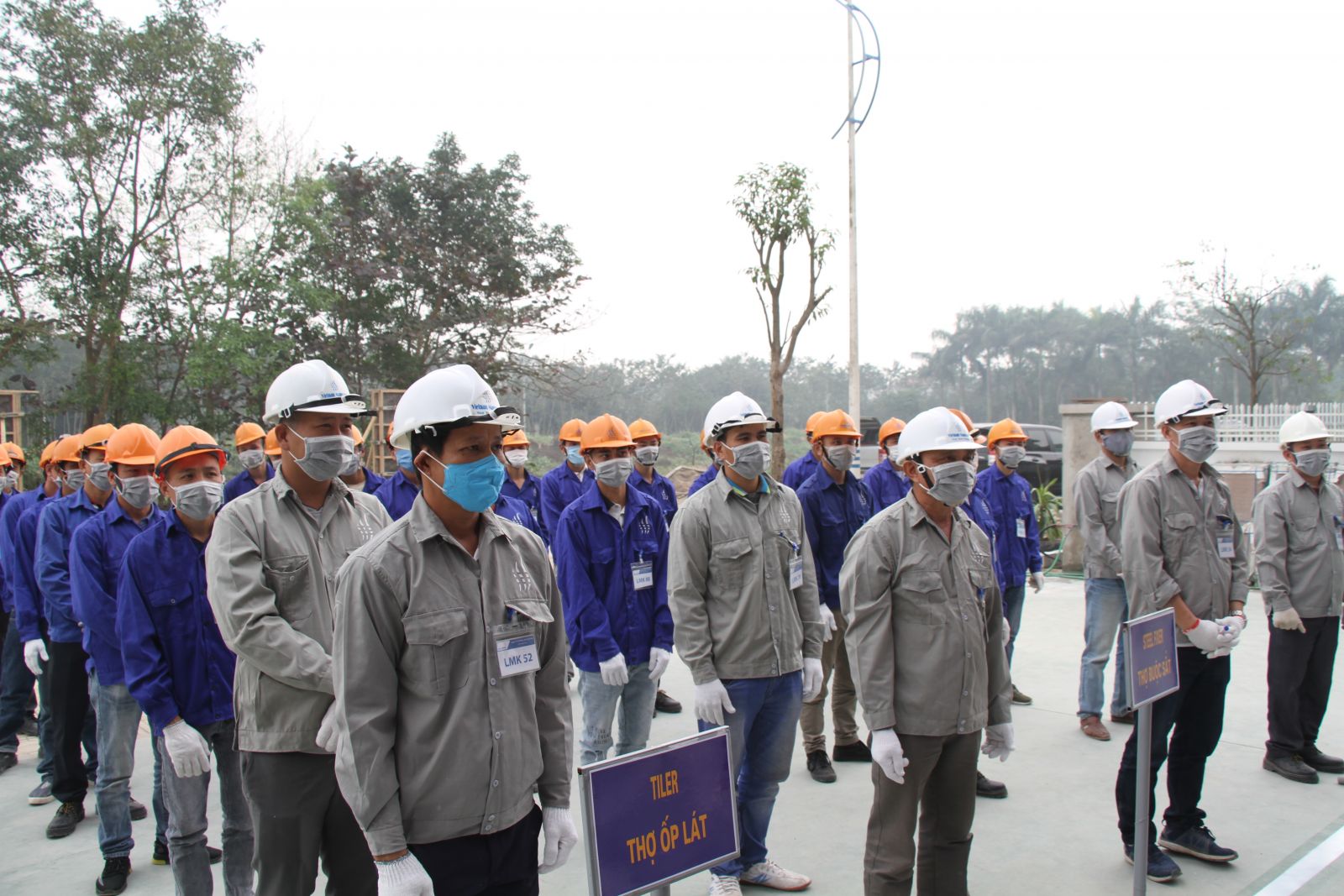 The test was organize to select foreman, shuttering carpenter, tiler, and steel fixer
Since the company is expanding their business, they continue to ask Vietnam Manpower., JSC to recruit more workers.
Vietnam Manpower., JSC on February 20 organized a recruitment campaign to select workers for S.C. Construct in Romania. After a difficult trade test, 52 workers have been qualified to work in Romania.
First of all, the employer gave a brief introduction about their company business, job description of each position, accommodation and working condition for candidates.
The trade test was divided into 4 parts including: foreman, shuttering carpenter, tiler, and steel fixer.
Foreman interview was the first section. In this test, English fluency was an important factor for each foreman, who would directly manage and supervise Vietnamese workers in Romania.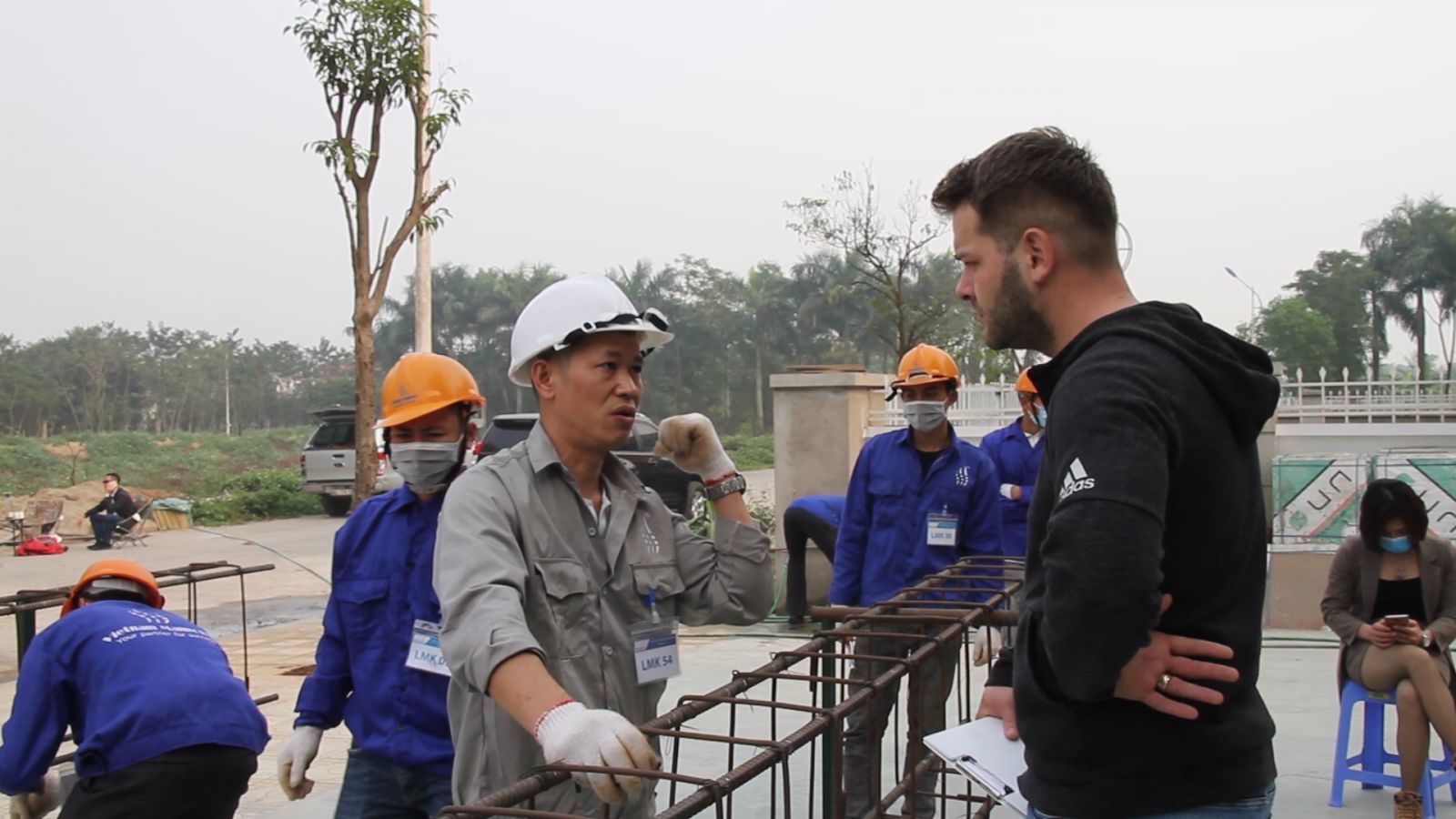 The employer interviewed a foreman to check his English fluency
In the shuttering carpenter test, candidates were divided into groups. Each group consists of 3 or 4 people and performed the test one time. The task was to create formwork or shuttering, which were temporary structures used in the concrete pouring process. Vietnam Manpower workers completed the test with very good result. All of them determination, good skills, high concentration to complete the test and good cooperation when working as a team.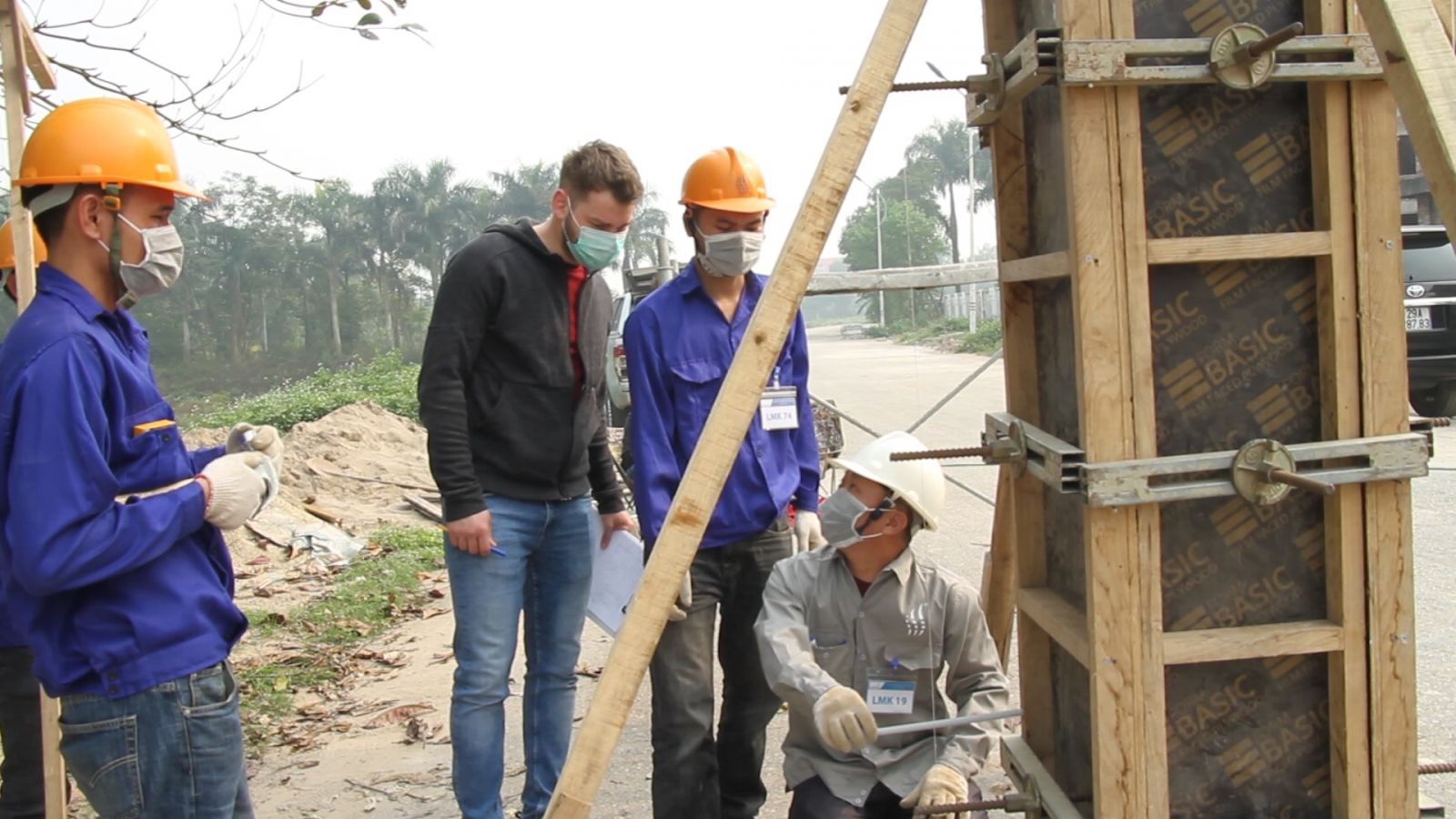 Foreman and employer check workers' trade test result in shuttering carpenter section
The next section was tiler test. All candidates had to examin plans, measure and mark surfaces and laying out work. They then prepared wall and floor surfaces by removing old tiles, grout and adhesive, filling holes and cracks, and cleaning surfaces before spreading adhesive onto prepared surfaces and tiles, and setting tiles in position. The next step was to spread adhesive onto prepared surfaces and tiles, and sett tiles in position then grout tiles, and clean and remove excess grout.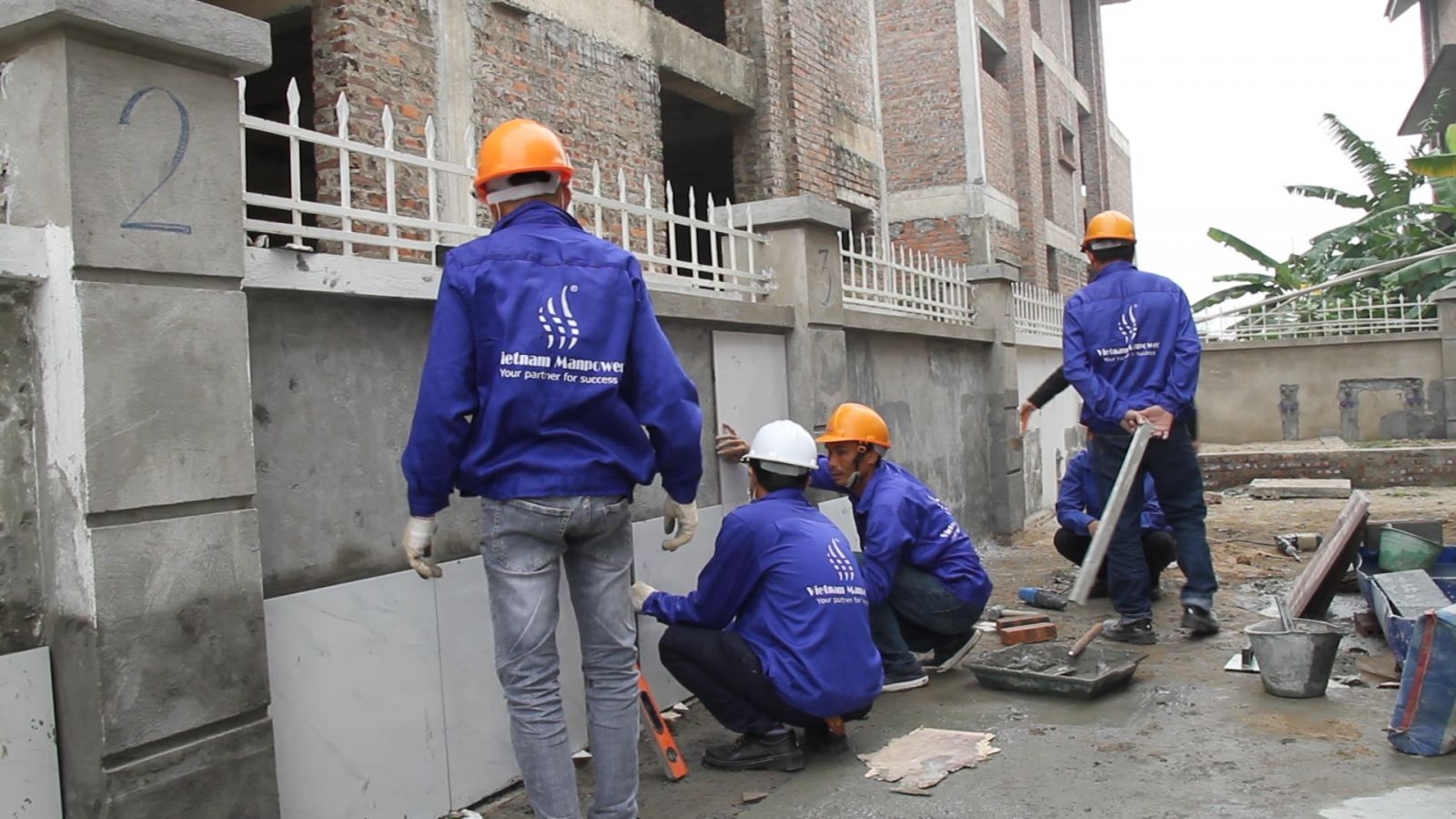 Workers are taking tiler test
Thanks to professional experience and good working attitude, they have produced amazing results, the employer were very pleased with their results.
The final part was steel fixer. The steel fixers performed their test by straightening to iron sticks, bending them in square frames and fastening them. All stages were done correctly, in a very fast and secure manner and yet ensuring the examination time within 20 minutes.
Workers are divided into groups of 3 or 4 people to take the steel fixer test
Regarding manpower service provided by Vietnam Manpower, the employer said the company has experienced, excellent, professional, quick and efficient recruiting services. They were very satisfied with the Vietnamese workers' performance. They were looking forward to corporate with Vietnam Manpower in the near future.
S.C. Construct has over 23 years experience in the construction industry. They are known for their expertise and strict adherence to quality standards. They approach every construction project by listening to the client's needs and developing a well-organized project plan. After the negotiation process, the company S.C. Construct has come directly to Vietnam in order to participate in the trade test organized by Vietnam Manpower Company. Over 90 employees went through many thorough tests supervised directly by representatives, assuring that their working ability meet Romanian labor requirement.
Currently, Romania market is facing the shortest of labor force problems, so many companies are seeking for a good source of employees. Vietnamese workers have been one of the best options for Romanian companies thanks to the huge amount of labors with good skill. Vietnam Manpower do not only possess well-organized, well-equipped and state-of-the-art equipment but also professional in working. All of these factors helped Vietnam Manpower to leave S.C. Construct good impression.
For more information, please contact:
Ms. Lana Phung
Hotline: (+84) 949 594 116
Email: lana@vnmanpower.com