The context of hiring foreign workers to Romania
Since 2017, Romanian Government has come up with the solution of approving foreign workers [Details on Romania Journal] as short-term solution for labor shortage. Many Romania enterprises started looking for manpower agency abroad which can supply skilled workers in construction, manufacturing, agriculture, etc. with affordable salary and fastest recruitment time. In that context, Asian countries with advantages in cheap labor as Vietnam, China, Sri Lanka, Nepal, Phillipines and Romania's neighbor countries Moldova, Ukraine have provided thousands skilled workers to industrial cities Cluj-Napocca, Bucharest and Constanta.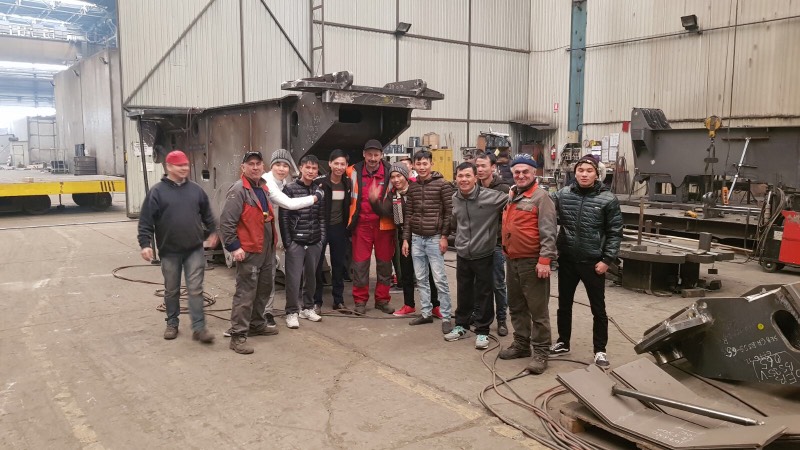 Vietnamese workers at Gormet Company, Cluj Napocca, Romania
Latest statistics published on Business Review shows a sharp rise in the number of foreign workers exported to Romania between the period of 2016 and 2017. It is expected that hiring workers from abroad, mainly from Asian, become a trend in Romania for at least few years ahead, until the Government is successful with their education program to train more local workers and raising the wage to call back Romanians from abroad.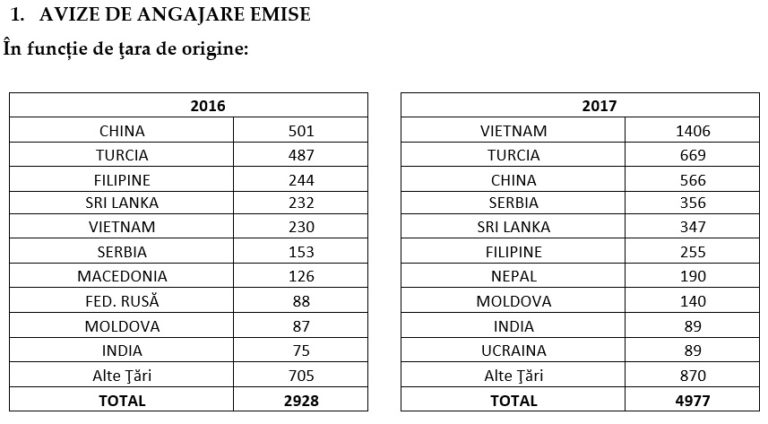 The total number of foreign workers exported to Romania – by Business Review
Ranked at the first place, Vietnam has increased its number by 6 times (from 230 in 2016 to 1406 in 2017) and takes the lead from China. It may surprise Romanian employers that an agriculture country living on rice and coffee may supply skilled workers to Europe. However, in case you don't know, Vietnam annually supplies more than 100,000 contract workers to Gulf Countries, Europe, Korea, Japan, Taiwan and Malaysia in many sections. The labor-export industry brings back the country 2 billion dollars every year – making Vietnam one of the biggest worker suppliers in Asia.
However, the country is facing hard time exploiting traditional markets. In the context of low oil price, Gulf Countries are not ideal destinations for Vietnamese workers for a couple of years ahead due to many projects delay for unlimited time. Japan offers trainee program for a definite period, not worker program (further explanation in Part 2). Korea has tightened the EPS (Employment Permit System) signed with Vietnam by given very strict requirements for workers. Taiwan and Malaysia have poor labor protection law causing many deaths for Vietnamese workers in recent years.
Therefore, to maintain the labor-export industry, Vietnam must find another market. Romania is selected due to fast visa process for workers (around 2 months), suitable salary and human rights protection. Since 2017, manpower agencies in Vietnam have invested on special training for skilled workers that Romania needs: construction workers, mig mag/tig welders, male/female manufacturing workers, agriculture farmers, etc. After the success of 230 workers exported in 2016, Vietnam has made an all-out effort to become the biggest worker supplier to Romania in 2017 and expected to remain on top for at least more 3 years.
Find Out More:
Basic information about Vietnamese workers in Romania, provided by Vietnam Embassy in Bucharest.
A specific case of Romanian firm Gormet in Cluj Napocca – successfully recruited Vietnamese welders, fitters and foreman.
Download the ultimate guide to recruit Vietnamese workers to Romania
Vietnam possesses an abundant source of proven quality workers thanks to Germany & Japan's training support programs and repatriates of thousand contract workers from abroad every year
Government focuses on special training
Famous as "a small outsource factory covered in the big shadow of noisy neighbor China", Vietnam has been known for unskilled cheap labor and a place of many million dollars factories of capital giants Nestle, Samsung, Ford Motor and Panasonic. However, the Southeast Asia country has signed two important agreements with world-class technology country Germany and Japan, aiming to change their tile from "providing unskilled cheap labors" to "providing international standard workforce". The agreement with Germany focuses on providing German-quality curriculum for students at vocational centers. While the other one provides chances for hundred thousands of Vietnamese trainees coming to Japan, having on-site training for a specialized job and being certified.
In 2016, Germany Government sponsored Lilama Training Centers (the biggest system of vocational centers in Vietnam) 9 million dollars (from ODA) for a "Vocational Training Reform Program", which provides new curriculum and facility in Europe quality for students. The new program is certified by Postdam Chamber of Commerce and Erfurt Chamber of Commerce for the equivalent of the German standard.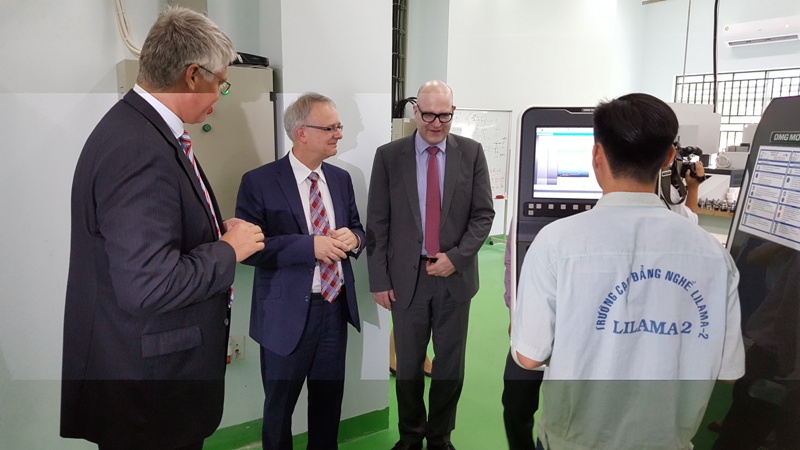 Representative of the German Consulate in Ho Chi Minh City visited LILAMA 2 on Nov 15, 2016. Source: Vietnam Ministry of Construction
The other agreement is known as "Japan technical training program". Sponsored by Japan Government, the program allows Vietnamese people to come and work for a Japan company as trainee for a period of 3 to 5 years. This brings mutual benefits for both countries, since Japan has been suffering from labor shortage and Vietnam needs a mass training program for the poor people, which helps them easier to get a job (local or abroad). When the program ends, all trainees must repatriate and contribute to the development of Vietnam – as purpose of the two Governments.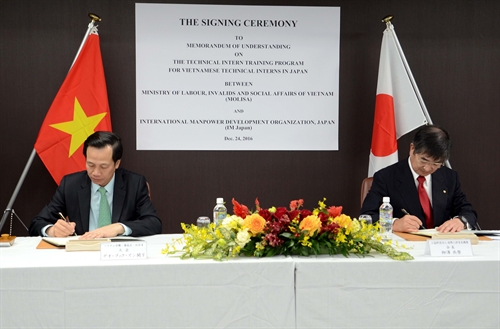 A memorandum of understanding (MoU) on Skills Internship Programme was signed on December 24 in Tokyo between Vietnam's Ministry of Labour, Invalid and Social Affairs (MOLISA) and IM Japan – the Japanese international human resources training agency. Source: Molisa
In the first ten months, trainee will receive free guidance and training from a Japan company which accepts him/her through the introduction of Japan labor unions. Then, in the second year, trainees are required to take an exam to get a skill certificate. Only qualified people are allowed to stay and receive a Trainee Contract for a definite time (equal to a normal labor contract in Japan – salary and benefits provided as Japan Labor Law).
VOV – the official media channel of Vietnam revealed that about 100,000 Vietnamese apprentices are following training courses to improve their skills in Japan, particularly in electronics, outsourcing mechanical engineering services, seafood processing, garment industry, construction and agriculture.
The incompatibility between Vietnam repatriate workers and local firms
Recently, a representative of MOLISA (Ministry of Labor – Invalid and Social Affairs) has revealed: "Most of trainee workers coming back to Vietnam are now suffering from unemployment, or having a temporary job while finding chance to work abroad again. They can't find in the market appropriate jobs and salary that worth their skills! ".
In the opposite side, a manager of a local firm from Vietnam also explains why his company has no demand for skilled repatriate worker: "Trainees often expect much higher wages than locals, which enterprise cannot afford. Moreover, it's not compulsory to hire trainees when the domestic labors still meet the requirements (very basic jobs suitable for unskilled ones and get paid very modest salary).
In fact, despite an impressive GDP growth rate in recent years, Vietnam is still a third-world country with many improvements needed for agriculture, industry and service. Even when the country owns a young and skilled workforce, local firms cannot take advantages of that due to poor technology and high craftsmanship. That combines with poor wages, modest benefits and questionable working conditions make the country not an ideal work place in any aspect.
Significant changes will happen, but at least in the next 3-5 years, brain drain is inevitable.
At last, which opportunities are there for international recruiters?
If a foreign company would like to recruit Vietnamese workers, there're some points they need to consider:
Recruiting experienced repatriates: Most of Vietnamese workers abroad signed short-term contract (2-3 years) with their employers. Therefore, foreign recruiters may expect the repatriates of those going abroad in 2014-2016 and become available for recruitment this year:
Year

Number of workers exported

Main labor-receiving countries

2014

98,748

Taiwan, Japan, Korea, Malaysia, Saudi Arabia

2015

115,980

Taiwan, Japan, Korea, Malaysia, Saudi Arabia, Macau

2016

126,000

Taiwan, Japan, Korea, Saudi Arabia, Romania

Overall

340,728
The total number of Vietnamese workers expected to repatriate in 2017-2018 – Source: MOLISA
Visa Process: Vietnamese workers might be granted visa within 2 months in following countries: Romania, Saudi Arabia, Kuwait, Qatar, The UAE, Malaysia and Taiwan.
Sectors that Vietnamese workers have advantages: Welder, Construction, Male/Female manufacturing worker and agriculture.
Fees: None commission for agency. Employers only pay for work permit and flight tickets of selected workers. The other fees will be charged on manpower agency.
For further information about recruiting Vietnamese workers, please kindly fill this very short form! Vietnam Manpower – the leading recruitment agency in Vietnam will answer you by email within one working day!