In late January, Vietnam Manpower has a great honour and privilege to welcome partners from a big Poland shipyard company to visit the 56.200 DWT ship launching at Hai Phong Port. The visit is within five-day schedule of partners, aiming to survey Vietnam labor market in supplying shipbuilding workers to Poland.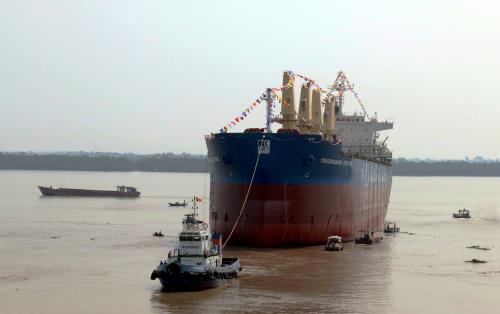 With a length of 190m, width 32,26m,height 18.1m, the ship has 5 storage basement with a capacity of 71.800m3, 4 cranes with lifting capacity of 30 tons/each, main engine 8.890KW by DU WARTSILA 6RT-flex 50 (Japan).

The ship was totally built by hundreds of Vietnamese workers, who are hard-working and experienced in the billion dollars shipbuilding industry.
On this special occasion, Vietnam Manpower has connected Polish shipyard partners – who are in need of workers due to the labor crisis in Poland, to the best Vietnamese welders and hull assembles in shipbuilding. They are those who directly involved in the completion of the 56.200 DWT ship and will soon terminate the current contract right after the ship delivered to its owner (expected on April, 2018).
According to our survey, most of those shipbuilders still have no intention of their next jobs after the current contract ends. There are many reasons, mainly because of the shipbuilding industry in Vietnam has signs of going down in recent years. Most of the labor force has jobs only when companies have orders for ships (not often in the past few years) and life becomes insecure. A number of smarter laborers are looking for jobs abroad due to support from labor-export companies, especially in the context of Europe's expanding labor market.
According to interviews with some shipyard workers at Hai Phong Port about abroad jobs in Poland, they are very excited and confident with their skills. Vietnam possesses a relatively developing shipbuilding industry. In order to meet the human resource needed, the Government of Vietnam has prioritized to open many high quality vocational training centers, which connects with shipbuilding enterprises to ensure the output of these resources. Up to now, Vietnam owns thousands of shipbuilders with certificates from vocational schools with minimum 3-5 years experience in the industry.
From next March - the end of the New Year holiday in Vietnam, workers will return to the port and complete the final stages for the ship to be handed over as scheduled. Then, the job opportunities from Szczecin and Gdynia will be opened for them by support from Vietnam Manpower. Polish shipbuilding partners are very satisfied with their survey trip on January and planned to come back again in March to conduct trade test. As expected, about 100 shipyard welders and hull assembles will come to Poland in the first 6 months of 2018.
Currently the shipyard company in Vietnam is working with around 500 workers onsite with at least 3-5 years experienced. For international shipbuilding enterprises who wished to recruit Vietnamese workers, please contact us as below:
· Tel: (84-24) 73033699 | Fax: (84-24) 73030333
· Hotline: (+84) 949 594 116
· Email: lana@vnmanpower.com
· Skype: vnhumanresources