Mass migration has become a significant economic phenomenon related to the expansion of globalization and trade between countries. For centuries, it has shaped or reshaped the social and economic landscape in many continents, regions and countries of the world. Many countries have counted on the migrant labour to fill skills gap and adjust to their aging or declining populations.
Saudi Arabia is known as one of promising destinations for migrant workers. This is one of wealthiest countries in the Middle East, also one of largest exporters of oil, and thereby, one of the most influential in the region. In spite of this, over 50% of the workforce (almost 6 million people) in this country are migrant workers, according to Internationale des Liges des Droits de l'Homme (FIDH) and the Egyptian Organisation for Human Rights (EOHR) (2003). The migrant workers contribute billions of dollars every year to their home countries through remittances. For this foreign workforce, working in Saudi Arabia is a chance to escape from poverty, upgrade skills, get higher pay than in the home countries, and make a better future for their relatives.
Southeast Asian countries are among major ones of sending migrant workers. According to a study by Manolo Abella and Geoffrey Ducanes (2009), there are about a million Vietnamese workers hired in about 40 countries, especially in Malaysia, Taiwan, Republic of Korea and the Gulf States. The Philippines has numerous workers in the Gulf States – about 2.18 million workers, lots of workers in North America (700 thousand), 668 thousand in Europe, and one million in East and Southeast Asia.
There are both advantages and disadvantages of hiring migrant workers. You can check here to get more insight.
Practical guide

on

managing migrant workers
The need and importance of managing migrant workers have increased, mainly in the destination countries with increasing flows of this workforce type from different parts of the world.
There is no single, correct way to tackle migrant worker issues. Exact approaches will differ by the country, industry and factory. Below provides practical guide that companies can apply based on their needs and operation context. This guide can help company better manage risks, build knowledge and skills capacity among migrant workers, promote a more worker-centered environment where rights are protected, enabling the company to recruit and retain higher quality workers.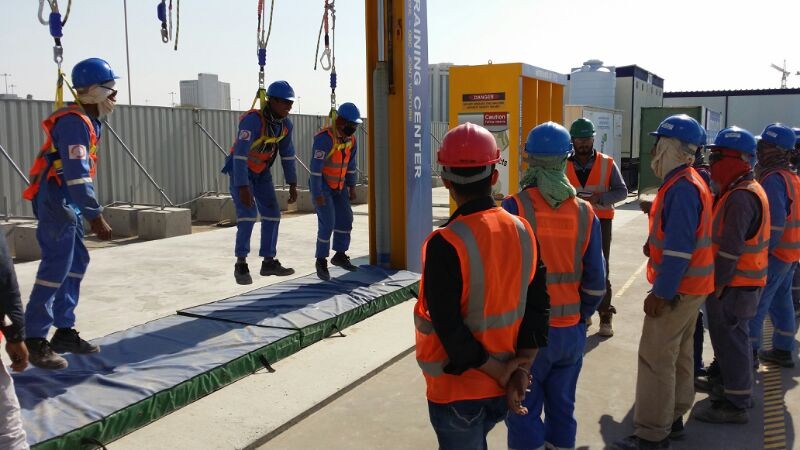 Give essential induction training and any necessary vocational/ job related training
Give relevant information about the risks that they may be exposed along with precautions they will need to take to avoid those risks.
Consider the needs of workers that may not speak English well. Consider whether you need translation services.
Make sure workers have got (rather, received and understood) the information, instruction and training they need to work safely and effectively.
Make sure they are adequately supervised and can communicate with their supervisors
Make sure they know where and how to voice any concerns about their health and safety, and any emergency arrangements or procedures.
2. Language issues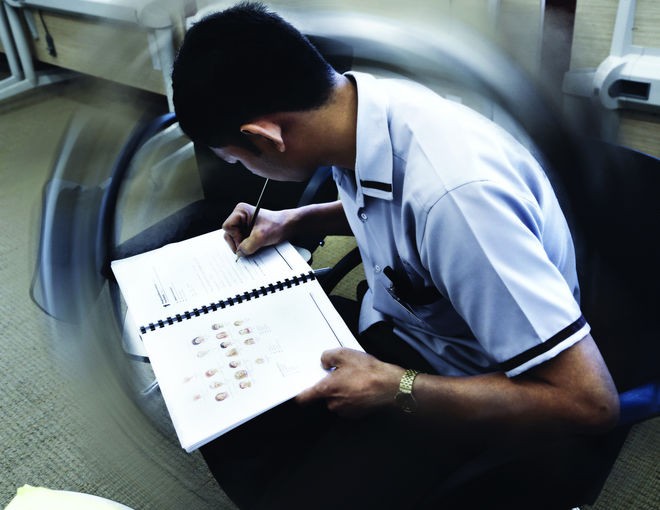 Consider providing English for Speakers of Other Languages courses for workers that need improve their English. This can be done in the workplace or through local teaching providers, and either within or outside work hours depending on operational requirements. Learning English would help reduce communication difficulties and it is shown to lead to higher productivity and retention rates, and promote integration at and outside work. Also, it can be offered to migrant works as a professional development opportunity.
Ask a worker who speaks good English to act as an interpreter (as long as he/ she can do this to reasonable standard) or look outside for help.
Employ the services of a professional interpreter, etc, for training sessions.
Use a buddy system. That is, put experienced workers with new or inexperienced migrant workers who speak the same language to help make seamless settlement into the new working environment.
Provide written information in a relevant language(s). but ensure you use a competent translator familiar with any technical terms.
Use nonverbal communication to convey messages more clearly – for example, videos, DVDs, audio tapes, and/ or internationally-recognized signs and symbols that can include hand signals.
Use simple, clear English in training sessions, and train supervisors in how to communicate clearly.
Give introductory language training during orientation. Though it won't work immediately, this step helps reduce misunderstandings between local workers, local host communities and migrant workers, avoiding tension and conflict. Role play activities during the training can be used to introduce basic greetings and responses. This can be done in tandem with the culture lessons.
3. Cultural issues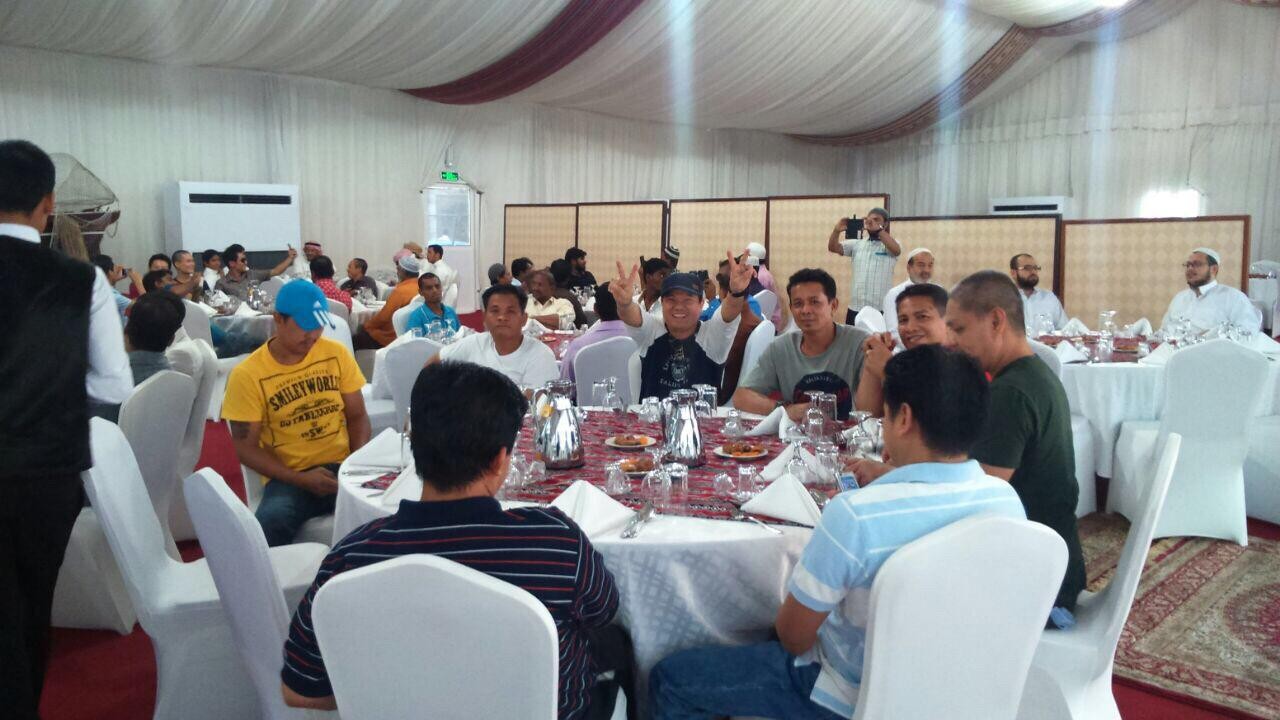 In celebration of Eid (an important holiday in Saudi Arabia), United Building Materials Factory (Dammam) held a warm party for all the employees. This was good chance for their migrant workers to understand more about the culture in the host country.
Awareness: Recognize that the worker is living and working in an environment with different norms and expectations from his home country. A fact sheet and brief introduction during the orientation will help here.
Knowledge: Better migrant workers' understanding of values and beliefs related to the host culture through ongoing training throughout the year, building on awareness. For instance, one way to overcome cultural barriers in Malay culture is during the religious festivals when there is often an open-door policy for workers of other cultures to learn about Malay values and beliefs. Sharing information about the festival and customs can help migrant workers to open a door for themselves into the community where they are living.
Skills: Put into practice the knowledge and awareness that have been built. Worker communication with the local managers and community is the most direct way to develop cultural skills, while developing awareness and knowledge. Give opportunities for workers to enhance communication skills. During the ongoing cultural understanding courses, involve group role playing that can effectively develop confidence and strengthen cross-cultural communication skills. Also, encourage workers to openly compare and discuss differences between their home culture and the receiving country's culture in facilitated group discussions.
4. Healthcare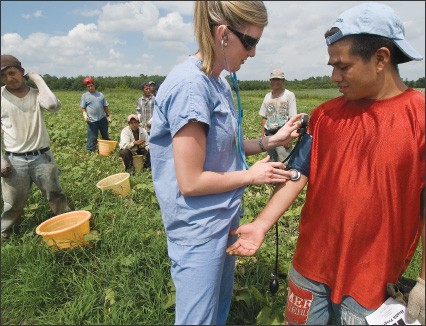 When migrant workers are new to the country, they may suffer such problems as different food, strange environment. This is why the migrant workforce may have high burnout rate. This issue can be more easily tackled if you consider these components:
Awareness: Give health orientation for workers.
Access: Give migrant workers reasonable access to medical services and treatment when necessary
Support: Give psychological counseling as needed
Training: Give occupational health training additionally to workplace health and safety.
5. Grievance
You may also be interested in:
Exactly How to Get Honest Feedback from Your Employees
Must-Have Keys to Successful Workplace Social Dialogue
It may be difficult for migrant workers to file their grievance due to language difficulties and cultural barriers between workers and managers/ supervisors. As both companies and workers can benefit from an enhanced grievance mechanism developed for migrant workers, ultimately improving the employer-employee relationship, the managers can:
Develop a transparent redress mechanism that protects worker anonymity. This mechanism can address challenges of language and cultural barriers by giving a formal outlet for tackling issues within the migrant workforce rather than requiring them to raise complaints to a general factory committee. The mechanism can better protect the worker's anonymity and develop a more trusting environment for raising and resolving grievances.
Allow workers to form a migrant worker committee that functions like a gender committee, and can help resolve migrant worker issues more proactively.
The committee can represent the workforce from every nationality, and directly elected by the workers. Elections can be held annually. The committee leaders can hold scheduled meetings with the HR team of the factory to promote the regular, constructive communication between the management and workers.
For this committee mechanism, it provides direct redress for migrant workers without lodging formal complaint. Either, it can field grievance from migrant workers, lodge formal complaint and request mediation through factory-wide mechanism.
Electing leaders at dormitory level can further improve worker representation, and give a more viable information channel for the employer to learn about the worker issues. Each dormitory floor can elect a floor leader, and the dormitory would elect a dormitory leader. The floor leaders would be responsible for gathering grievances from their peers and communicating them to the dormitory leader. Then the dormitory leader would have a direct channel to either the HR department or the migrant worker committee.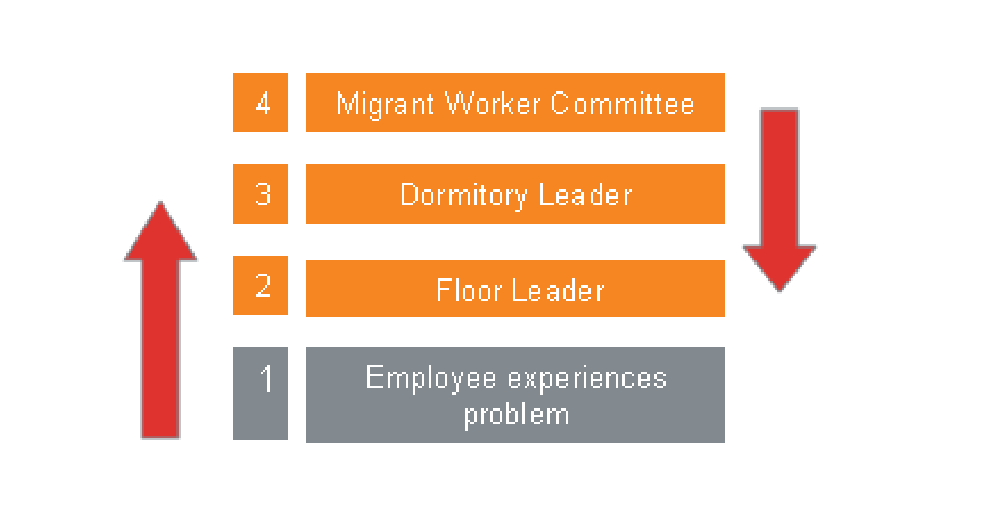 Cr: Migrant Worker Management Toolkit by BSR
This arrangement enables workers to raise grievances in an environment one step free from the factory setting, limiting their fear. Also, this arrangement creates a more trusting environment. Workers indeed will likely feel more comfortable with a peer in their dorm floor than with migrant worker committee members. This can be especially true in a large factory that there are thousands of migrant workers.