The affirmation was given during the meeting with Viet Nam's Minister of Labour, Invalids and Social Affairs (MOLISA) Dao Ngoc Dung on September 28, according to Nguyen Thanh Phuc, head of MOLISA's Communication Department.
Minister Dao Ngoc Dung informed Mr. Schmachtenberd about the situation of the labor market, quality of Viet Nam's human resources and asked the Ministry of Labor and Social Affairs of Germany to transfer vocational training curriculum and certificates accreditation to improve the quality of vocational education and employment in both countries.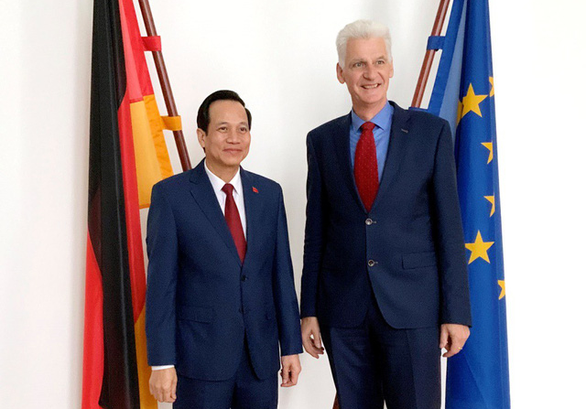 Minister of Labor, Invalids and Social Affairs Dao Ngoc Dung (left) and Germany's State Secretary at the Federal Ministry of Labor Rolf Schmachtenberg
He also asked Germany to receive more Vietnamese nurses and provide technical support for Viet Nam to implement the Viet Nam - EU Trade Agreement.
Germany was one of potential partner of Viet Nam especially in career education and labor cooperation, Dung said.
"Germany's immigration law, effective from March 1, 2020, will create favorable conditions for non-EU workers, including Vietnamese workers, to enter Germany to work," he said.
Minister Dao Ngoc Dung visited Festo Academy on September 25
On September 25, Minister Dao Ngoc Dung visited Festo Academy, one of world leading supplier of education technology and equipment.
The academy hoped to promote cooperation with Viet Nam in career education and sign a memorandum with Viet Nam's Ministry of Labor, Invalids and Social Affairs, said a representative of Festo.
There is a great potential for Viet Nam to send workers to Germany. The two countries can corporate in career education, nurse supply, restaurants and hotels. About 170,000 Vietnamese are living legally in German. Vietnamese people have the best ability to integrate into German community. Among them, Vienamese students study very well and they are the proud of Vietnamese community in German.