With a population of over 94,750,597 and 1465 vocational training centers across the country, Vietnam has many advantages to develop both quantity and quality of their human resources. More than 71 million people now in legal working age makes Vietnam a labor market of many other countries. Annually, nearly 100,000 new Vietnamese workers go abroad to work in Middle East, Korea, Japan or Europe, etc.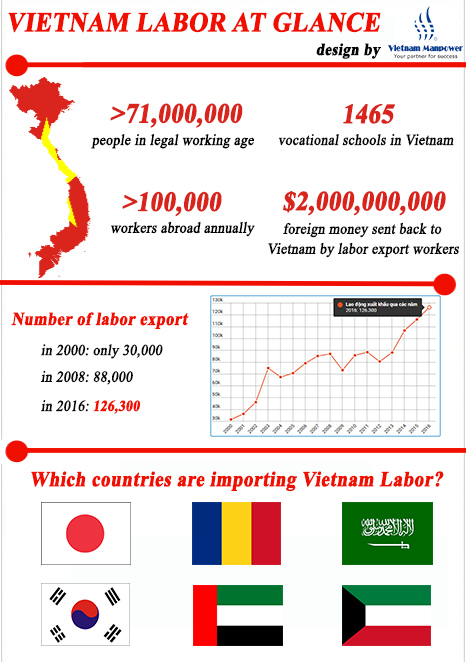 A remarkable point of Vietnamese worker is their youthfulness, professional skills and passion for learning. Besides, every Vietnamese is a self-esteem person, who does not tolerate but always try hard to make a better life. Despite the fact that the country suffered from war and poverty for a thousand year, those workers have built up a new Vietnam with a GDP growth of nearly 7 percent annually in the latest decade. To spread that magic, many foreign employers has come to Vietnam and bring back the best Vietnamese candidates to their country.
Since 2000, Vietnam Government has been working so hard to make the country become a resource of international standard workers. Some types of Vietnamese workers favored by foreign employers are: construction worker, foreman, welder, fabricator, nail technician and farmer, etc.
According to the survey Vietnam Manpower, after two or three years working abroad, Vietnamese workers have improved their knowledge and professional skills and usually received promotion by employers. Many have been promoted from a worker to a foreman.
As a leading company in labor supply, Vietnam Manpower has a strong connection with many prestige vocational schools in Vietnam, such as Lilama2 International Technology College, Petro Vietnam Manpower Training College, Bach Dang Ship Building and Building Vocational College. This is an important basis for Vietnam Manpower to supply nearly 50,000 workers abroad and all of them proved to meet the requirements of partners. Watch our workers trade test by click here!
Our company was born to build a bridge between Vietnamese skilled workers and projects around the world.
You really need manpower? Contact us (+84) 949 594 116 (Mrs.Lana) for the best workers!