Does the start of your workweek trigger overwhelming feelings of anxiety, lack passion and motivation, or stress? Isn't it supposed to represent a new challenging week to dive into? For decades, Monday has been considered as the worst day of the week. Do you know why?
Let's Vietnam Manpower figure out the reason and solutions for you
What is Monday Blues?
Monday Blues are associated with stress, anxiety and gloominess caused by an intense feeling of lethargy and discomfort that many people get at the beginning of the workweek if they're not happy at work.
The Monday Blues are so popular that they have become a cultural phenomenon, especially with the office environment.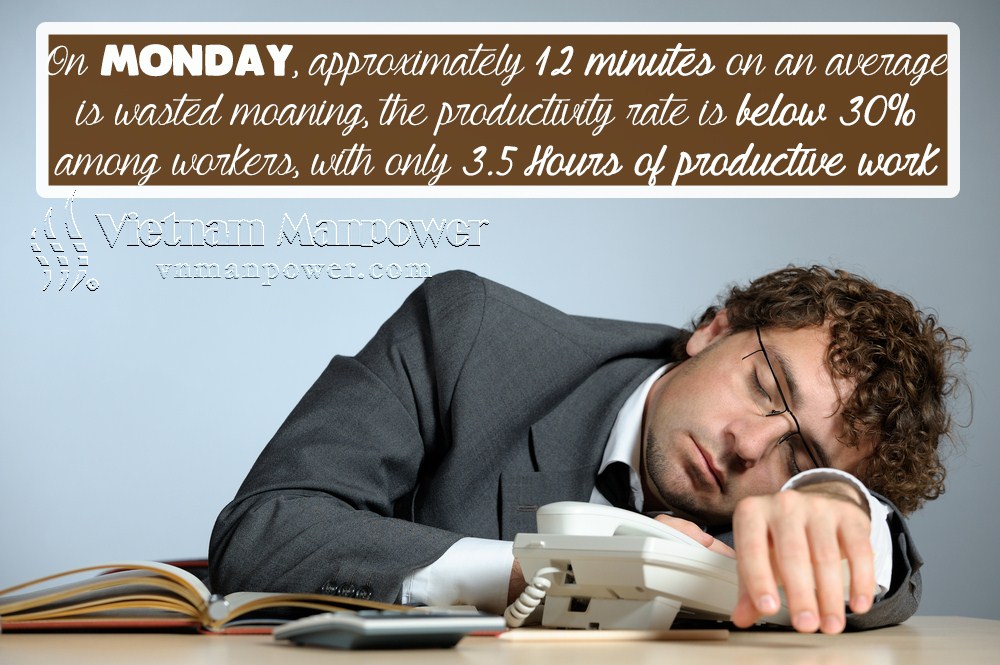 The reasons of Monday Blues
- You hate your job: As the previous article, we discussed a sad reality in the labor market: Many employees hate their job. This ratio was up to 71% in the latest research in 2013 and still hasn't stopped when there are more and more people voluntarily quit their job.
- Weekend is over: this is one of the most common justifications. After 2 days of freedom and fun, you have to go back with your desperate work, all the projects, all the deadline and pressure, that first day back at work – Monday – can be a depressing shock that's difficult to deal with.
- Don't have any energy: Maybe the relax schedules you make and party you participate in, sleepless nights at the weekend just take away all of your energy at the time you go back to routine activities.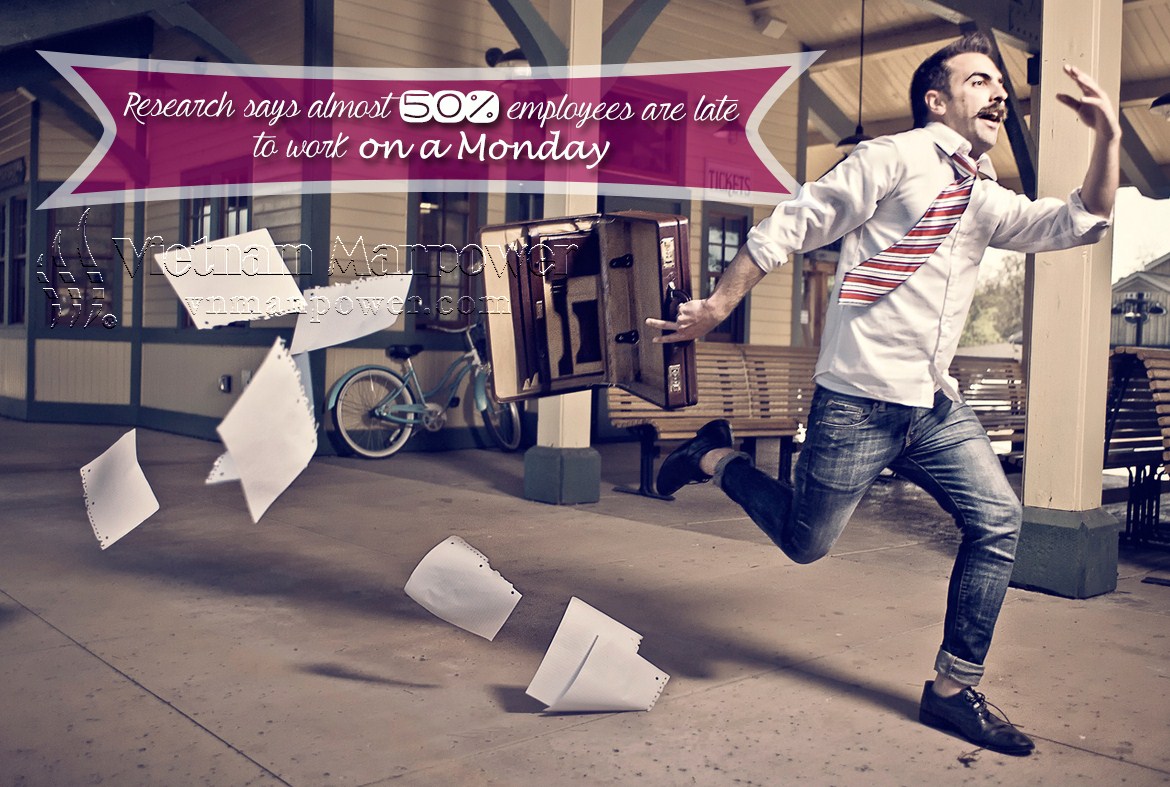 How to beat Monday Blues?
1. Identify the reasons.
It's not the time to live off with these symptoms but find out what is wrong with you: is it your job? Is the time to change your career path? Or you need a new healthy schedule.
2. Have a slow starting
We have tendency to look at Monday as the day where we try to expend our energy as much as we can and less and less as the week goes on, which is a problem for sustained and maximum productivity. It's necessary to balance your workload in a week. For example, you could stay back the meeting times for a little bit, try to avoid checking e-mail over the weekend.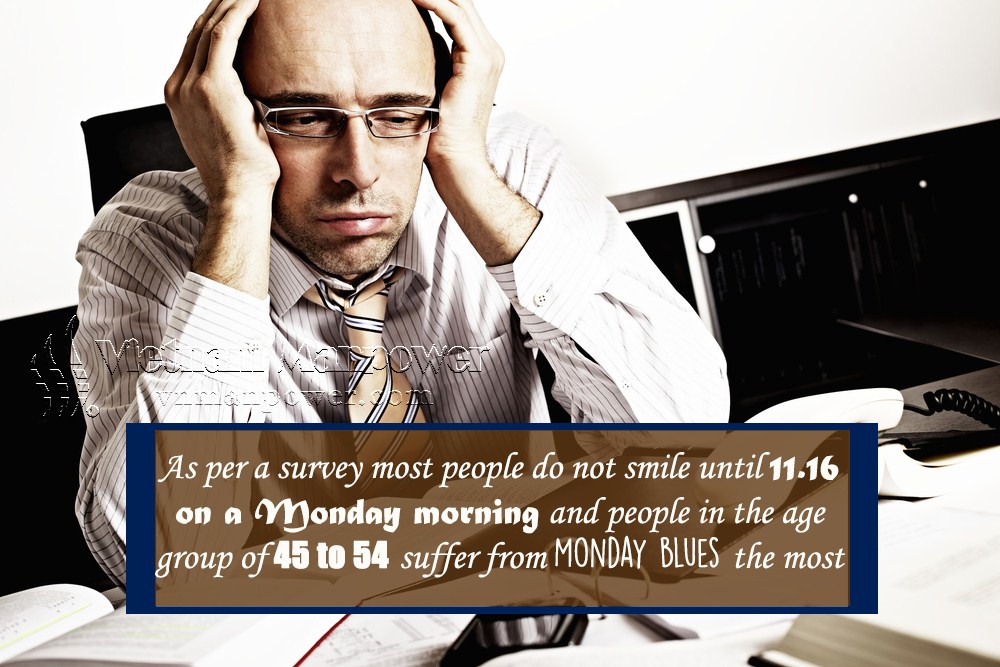 3. Get enough sleep
Go to bed a little early on Sunday night and be sure to get enough sleep so that you wake up feeling full of energy, well-rested, get ready for a new week. Also, do you know that waking up an extra 15 to 30 minutes early on Monday morning can actually make going back to the work mood?
4. Dress well.
You could use Monday as the "wearing" day when you show your favorite outfit. This can help build your confidence at the workplace and might get you a few compliments from your peers. Feeling good about yourself, you have won a half of the battle on Monday mornings.
5. Positive thinking.
Take time to recognize and appreciate the things that you enjoy about work by writing down your to-do list, or on your way into work, try listening to your favorite songs, which makes your dread feeling turn into a high-energy, positive and excited welcome to Monday.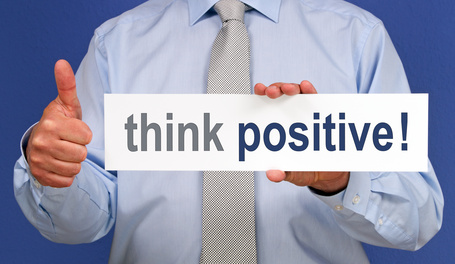 Mondays don't have to suck at all because everyone can set up their day. Try just one of the tactics we've discussed and you will find that Monday will be less of an enemy and more of an ally going forward.