Theoretically, there are 3 ways to boost employees' productivity:
1. Threaten them.
3. Make their work fun, interesting.
In reality, threatening can't help you. Paying a high income only works in a short-term. Creating an environment that worth to work for is the stable and long-term method.
How a funny workplace affects productivity?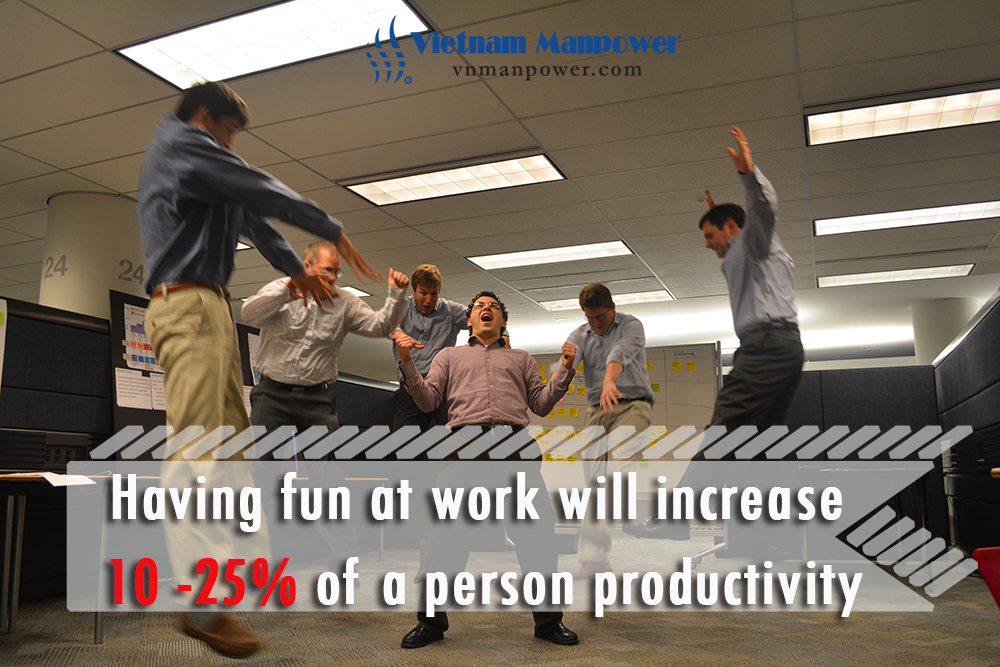 A new research from the USA indicates that having fun and stress-free at work will increase 10 -25% of a person productivity. They also have a tendency to engage with their company, their job and find motivation in a full of laugh environment. With a good mental attitude, not only their health will be improved but enables them to think more creativity and make wise decisions.
Make a test below: Are your employees suffering from terminal seriousness?
Terminal seriousness is now become more and more popular at the workplace. It makes your employees trap in fear, resentment, angry. Take a look at them again and answer these questions:
1. Do you regularly see them smiling or laughing at work?
2. When something funny happens do your staffs stop and appreciate it?
3. Does your company or your department organize funny activities at least once a month?
4. Are you (managers) frequently show your optimistic attitude and smiling at work?
Are you just answer no to two or more of these questions? So probably your employees are suffering "terminal seriousness" already.
Ways to create a fun workplace
1. Change your boring place to a fresh scenery:
Having lunch outside on a warm day. Take a walk with your co-workers. Keep your eyes out of computer screen by some activities will bring a change of your staff attitude.
2. Stop talking about work, mission, job or anything related to:
Taking time to know your employees better if you do something with them outside the office.
3. New decoration:
Change some decoration detail in your office to suit with winter coming up or a whole holiday season. Working in a brighter color or full of holiday environment will boost their mood.
4. Allow them to wear their own style:
Forcing a funny costume is a mistake when everybody has their own taste. Instead, you could take a day to be a freestyle day to let them get out of uniform or suit up all week.
5. "Joy of work" hour:
Even they feel boring at work, it has to be something they feel fun or want to do. Take some short breaks and gather your staffs. Let them talk about their ideas, tell stories that make work a joy.