You may also like reading:
Insight into Vietnam Oil and Gas Sector – An Important Step to Manpower Recruitment
1. Technical skills
According to a recent World Bank survey on workers in 7 ASEAN countries, Vietnamese workers is close to the top of the list in technical skills and working attitude. Professional skills are incredibly important in oil and gas industry. Workers are required to handle the technical requirements of their role. To gain required technical skills and enter this field, Vietnam oil and gas employees need successfully complete programs for vocational, college, undergraduate or post-graduate students. They are professionally trained at higher level than workers in other sectors. In 2011, 57.9% of workers completed their programs in vocational schools or colleges; 39.1% in universities; and 3% had post-graduate education. The number of workers with higher education has been increasingly higher over the past years. 100% of leaders/ managers in oil and gas have undergraduate education or above; among them, over 20% have completed post-graduate degree.
With the technological progression, machinery is becoming more and more advanced. So besides professional education, what oil and gas workers in Vietnam need is job training and experience before they can move up to skilled positions. They often begin as helpers of experienced workers and learn skills on their job along the way.
Plus, the industry annually holds skill competitions, attracting the participation of workers from many companies – for example, PV Drilling, PV Gas, PV Pipe, Vietsovpetro, etc. This is a fantastic way to recognize and reward skilled workers, and encourages employees to continuously improve their professional competencies.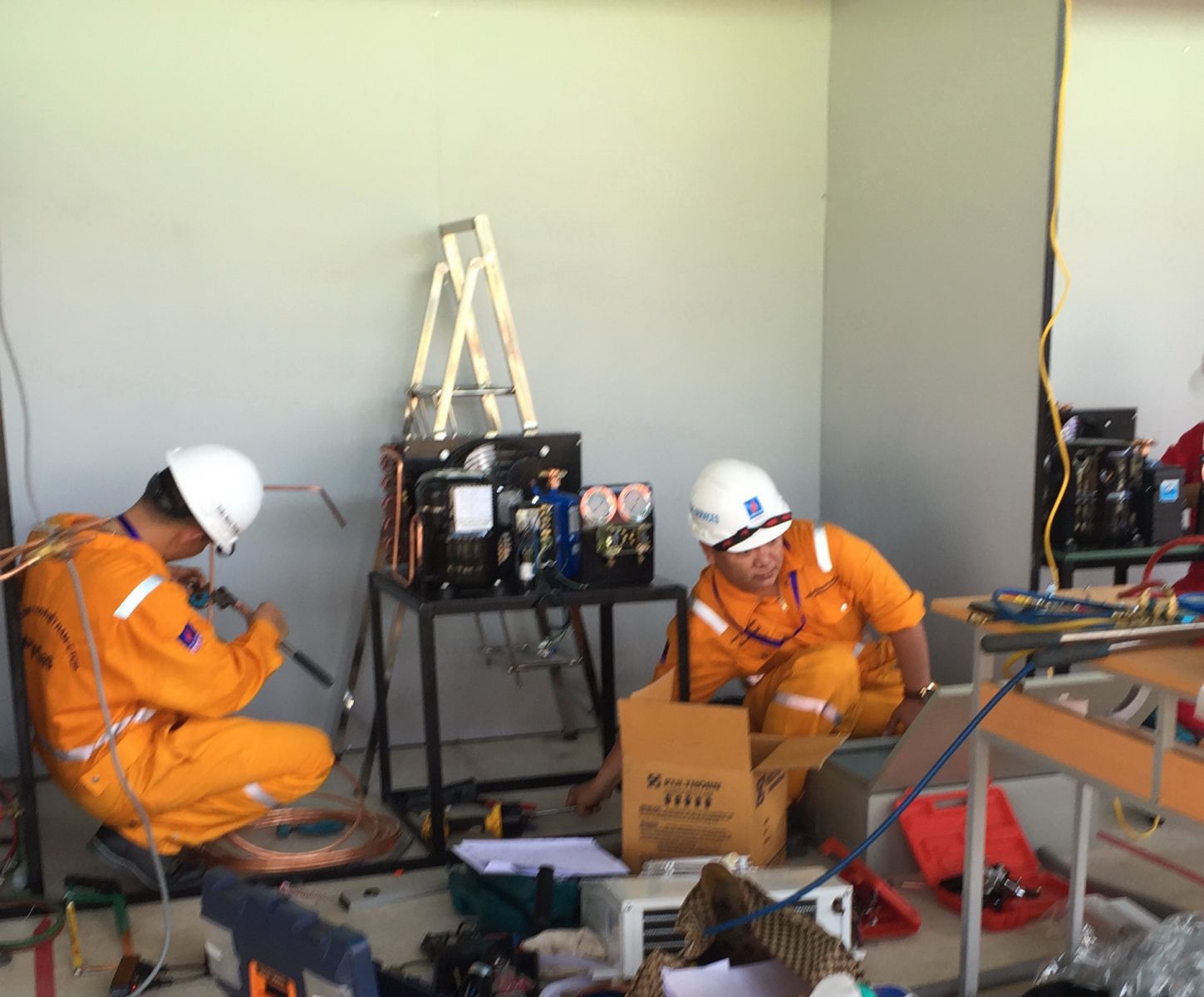 In Skills Competition (2015), workers from PV Gas grabbed 2 individual gold medals, 1 second prize, 1 third prize, and 6 consolation prizes.
2. English skills
Vietnam is pouring much more effort in sharpening technical skills of workers in oil and gas particularly through improvement in education and training quality. This can make the workers more confident in their industry and job specified skills. While technical competencies are what Vietnamese can brag about, English skills used to be their Achilles' heel. When Vietnamese people worked in a team of their peers from different countries, they likely had good professional knowledge but found it difficult to express it due to language barriers. This made them less confident. Still, they have some reasons to be more confident in their English skills now.
Along with increasing growth rate of the industry in Vietnam, especially when the Vietnamese government has allowed foreign partnership in oil and gas, English skills in many positions of this field are a must. The minimum requirements of English skills for jobs with regular interaction with foreign partners are high, from 800-900 points TOEIC. Engineers are asked to have at least 550 points TOEIC. Not all, the fresh graduates are qualified to work in factories under the supervision of experienced professional in this sector only when they have finished a 6-month English course, and 3 to 6 months of internship.
Also, Vietnam's integration in the ASEAN Economic Community (AEC) will open the chances for skilled Vietnamese workers with good English to earn higher-paying jobs in ASEAN countries. To tight grasp the opportunities from AEC, workers in Vietnam have been improving their foreign language skills, ideally English. According to Q&Me Vietnam Market Research in 2015 on 20-and-above-years-old full-time and part-time Vietnam workers, 61% spend time learning English after their working hours. This, to some extent, proves English has viral popularity among workers in Vietnam.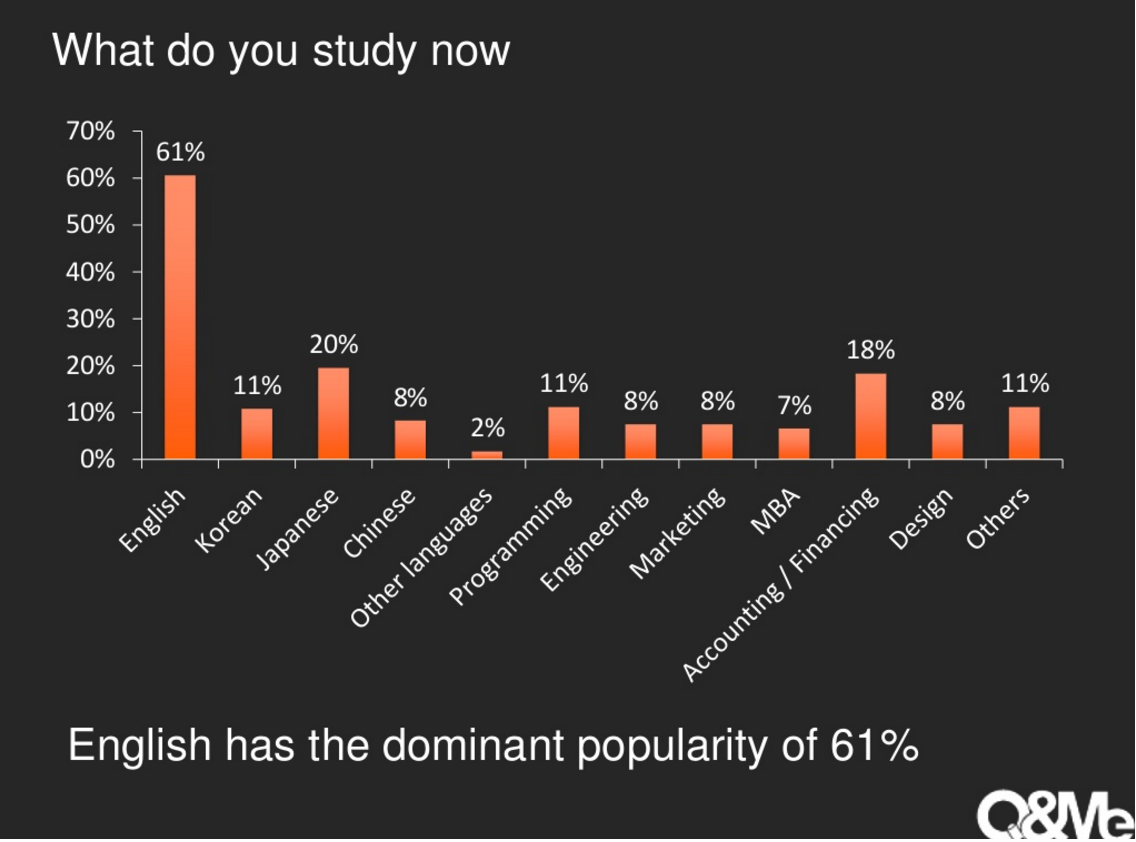 3. Diligence and eagerness to learn
Vietnam workers have amazing ranking in the ASEAN countries regarding technical skills mostly because they are hard working. Following Einstein words "Genius is 1% talent and 99% percent hard work", they have worked diligently to master their skills. Being diligent during their school days, Vietnamese people also conscientiously improve their skills when they have jobs. Q&Me Vietnam Market Research in 2015 has revealed impressive numbers. 74% of workers go straight home after working. About half takes on some studies, especially English. 66% learn from friends/ co-workers. 29% go to school for study. 56% learn to perform better in their current job. 63% learn less than 6 hours per week. 70% studies after their working hours.
Like workers in other industries in Vietnam, workers in oil and gas industry are known for their diligence. They work with energy and commitment and are eager to learn. Performance in job and pay rise are often their motivations for hard work and continuous self-improvement.
Mr. Trinh Thuong Mai, a Vietnamese engineer, is a good example. After working as an office staff in Vietnam Petroleum Institute for 5 years, he decided to change his job. It's because he dearly missed the smell of oil, each touch of machines, and wanted to learn more in the actual field and skill up. In the new job, he was happy to work as a level-4 worker in charge of repairing offshore drilling rigs though he had the engineer degree. He worked hard, even could work 24/24 hours as long as the exploration activities were safely maintained. When working as a blue-collar worker, he learned a lot from his peers and foreign experts. He loved how foreign professionals appreciated time, how they handle the job professionally, how they enthusiastically explained him about what he said he didn't fully understand. And when working with blue collar workers, he loved how sociable and friendly they are, and he understood more about their thoughts and expectations.
Another nice example is workers at Phu My Urea Plant - Petrovietnam Fertilizer & Chemicals Corporation. The modern working environment requires each and every worker in this plant to work hard, be willing to learn. 16h30 is when they come back from work, but it is normal for them to work overtime up to 19h. Because the machines operate constantly, the workers also have not stopped working.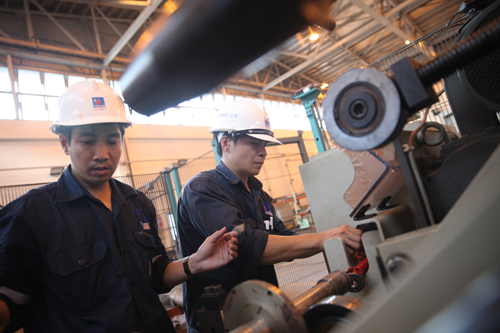 Workers at Phu My Urea Plant were working overtime.
4. Initiative
Vietnamese people are often known as being hard working and smart. That helps out a lot when it comes to continuous innovation and improvement. Back in the old times, initiatives helped Vietnamese defeated invaders. And nowadays, many Vietnamese employees think outside of the box, helping not only the companies, the country but also the world grow with their amazing inventions. Specially, in the oil and gas industry, employees have initiated many creative ideas, which helps improve HSE, boost productivity, and benefits the companies billions of dong.
For example, there were hundreds of initiatives from workers in PV Gas (Vietnam) during 2011-2013, benefiting this corporation up to 600 billion VND. Some outstanding innovative ideas are "Operating Dinh Co Gas Processing Plant with lower gas flows than designed";"Synchronize ROV survey results with pig launching results to define defects points' coordinates, based on the pig launching result from PM3 - Ca Mau Pipeline"; "Installing misting system for cooling boxes in the compressor K-1011A/B/C/D at Dinh Co Gas Processing Plant"; etc. In 2014, over 80 initiatives have been applied, bringing the cost-based benefit of 56 billion VND.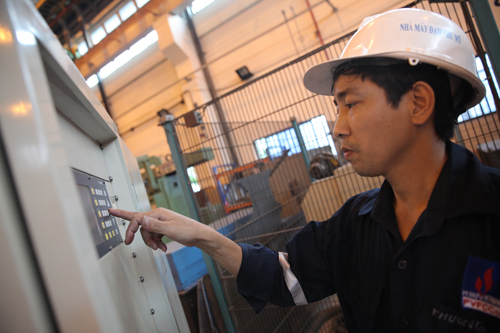 Mr. Tran Tang Khuong – creative workers
Another typical example is Mr. Tran Tang Khuong, Repair Engineering Team Leader at Phu My Urea Plant. He is really something when initiating many amazing ideas that economically benefit the plant. Some of them are "Design of fan fixtures for electric motors in the pump system 30-P-3001"; "Using high-pressure pumps and nozzles for congestion control in the reactor catalyst H2001"; "New machining weep hole for the lining layer in the device 20-V-2001"; "Manufacturing liquid discharge pipes for air filters in gas turbine 10-GT-9001", to name a few.
You may also be interested in:
The world's well-know inventions by Vietnamese people
5. Physical endurance
PV Drilling-11 in Sahara desert
Physical endurance is another typical trait of Vietnam oil and gas workers. Vietnam has tropical monsoon climate. It can be really hot here in summer and freezing cold in winter. That's why Vietnamese people are familiar with severe weather. They can work outside for long, long hours under summer sun, and smile brightly in cold winter nights. Working in such demanding, physically hard industry as oil and gas, they have become much braver. One of amazing feats of oil and gas workers in this S-shaped country is when they were involved in exploring and exploiting oil and gas in Sahara desert. This is the first foreign invest project that Petrovietnam has won an international tender, and becoming the operator. Workers in this Bir Seba project will never ever forget how it was hot like baking in the desert, blinding sandstorms, trips that they were ambushed by rebels, disaster-caused accidents, days of fasting hungry and thirsts, and when they shared sips of water to drink in Sahara. They ever wondered why they could overcome those obsessing days and ace the project, and then were proudly to find the answer. It was nothing but bravery of oil and gas people.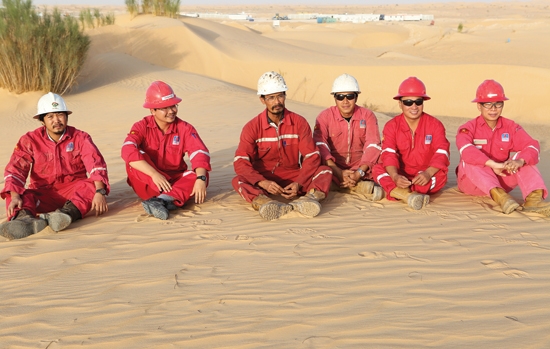 There didn't need the sun to shine. Their smiles shined – that's more than enough!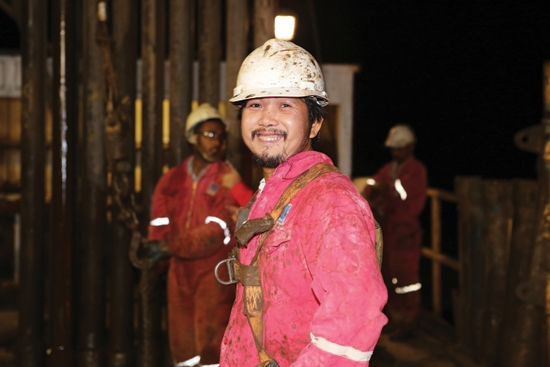 In the darkness, their smiles shined.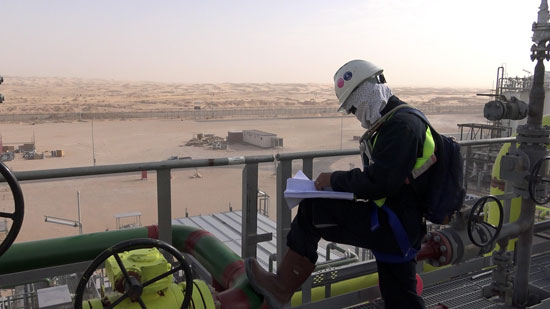 They worked with all their heart.
6. Adapting to high tech
In oil and gas industry, technology is the key. That's why employees in this sector have been sent to foreign countries to be updated with the world's most current technologies. When this industry in Vietnam was still young, workers was sent to study in former USSR and Eastern European countries. There they learned how to explore, exploit, process, transport, store, and use oil and gas. Along with Vietnam's international integration, the industry has sent workers to more countries like Algeria, French, U.K, U.S.A, etc. to be most current with high techs, and learn how to operate a modern oil and gas industry. Stepping into the big world from very early as compared to other industries in Vietnam, oil and gas workers have learned and mastered the cutting-edge technologies in the industry.
A typical example is Vietsovpetro (Vietnam-Soviet Joint Venture Corp). When it was newly established in Vung Tau (Vietnam), thousands of Soviet experts were sent to Vietnam and managed Vietsovpetro. Still, after 5-10 years, Vietnamese people could replace just about all positions that the Soviet experts were in charge of, even the highest and most important leadership positions – for example, General Director, Chief Engineers, etc.
Another vivid example is Nam Con Son Pipelines Company (NCSP – Ho Chi Minh, Vietnam). When negotiating and agreeing on business cooperation contract with foreign partners, the Vietnam representative said that within 5 years, Vietnamese would likely replace all positions that foreigners were responsible. The foreign partners, meanwhile, considered it's impossible. That's why they recommended after 5 years, the foreign side remained taking up 3 key positions – Deputy Technical Director, Deputy General Manager in charge of Commerce, Deputy General Manager in charge of Finance. But, in fact, after 5 years of operation, training and transfer, the localization rate was 100%. The same held for other projects – Dung Quat refinery, Phu My Urea Plant, etc. Vietnamese soon replaced foreign experts, mastering technology, safely operating machines, reducing costs, improving economic efficiency, and importantly, mastering modern technologies and advanced management.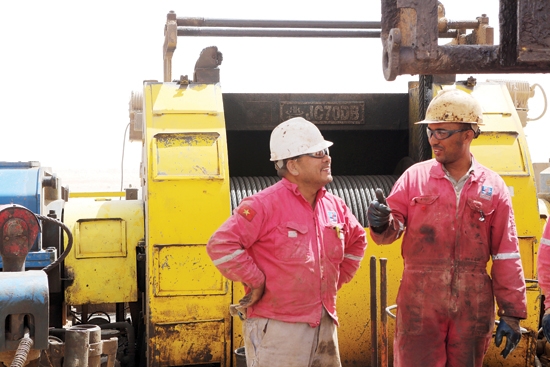 Vietnam and Algeria employees work well together.
Aside from these qualities, Vietnam oil and gas workers have good sense of discipline, teamwork, time management and organization skills. Because oil and gas is one of sectors with earliest international integration in Vietnam, workers in this sector have acquired these important skills. They have been familiar with industrial working styles. And it's teamwork that has helped them complete projects as well as possible, and helped this industry grow and develop strongly as it is today. Not all, workers in the industry have ability to multitask and complete task timely. Professionals often work on multiple projects at a time, so they must have good time management skills to meet deadlines. And to ensure their work is up to par and in compliance with industry standards, they need to be detail-oriented, particularly being organized.