You may also like reading:
In-depth knowledge about the Construction industry - the important step in finding the right workers
Vietnam Manufacturing Industry: Why You Shouldn't Miss This Chance
1. Structure of Vietnam oil and gas sector

The oil and gas sector in Vietnam has been dominated by Vietnam Oil and Gas Group (PetroVietnam - PVN) and controlled by the Ministry of Industry and Trade. In Vietnam, this sector is one of top priorities for the development, as it is viewed as the key to national economic growth and energy security. It is the country's biggest foreign current earner and one of main procurers of imported technology. Crude oil has earned over $17 billion for Vietnam since its first export shipment in 1987. This industry contributes $1 billion to the State budget every year.
PVN and Vietnam National Petroleum Group (Petrolimex) are the two biggest players in oil and gas. While Petrolimex is now involved only in transportation and distribution, PVN also produces refined products and gas processing. Established in 1975, PVN is the only domestic petroleum company and represents the Vietnam government in operating and managing Vietnam oil and gas industry. This group's revenue mainly comes from oil and gas production, urea production, power production, production of petroleum, petrochemical products, petroleum trading activities. Meanwhile, Petrolimex was established from equalization and restructuring of Vietnam National Petroleum Corporation. Petrolimex's main business scope is importing, exporting and dealing in petroleum, refining and petroleum products, investing in other fields that Petrolimex is operating and other sectors allowed by the law.
2. Oil and gas production

It isn't exaggerating to claim that Vietnam is biased with abundant natural resources. This country has amazing potential in oil and gas reserves, mostly located in the South of Vietnam.
Vietnam's crude oil reserves are the second largest in East Asia, just behind China, with 600 million barrels. Largest oil producing fields here are Bach Ho (White Tiger), Rang Dong (Dawn), Dai Hung (Big Bear), Hang Ngoc, Su Tu Den (Ruby). Averagely, 500,000 barrels of crude oil are produced per day. In the short term, new projects will keep increasing output; and in the long run, a lack of major new projects will make production decline, raising requirement for net crude import to 100 700b/d by 2022.
As an oil exporter, Vietnam has been supplying around 0.6% of the global demand. The United States is the biggest importers of crude oil from Vietnam, holding 27.9% of Vietnam's export volume. Singapore takes 27% of the country's export volume, followed by Japan 22%, China 18%, Netherlands 2.8%, and Malaysia 2%.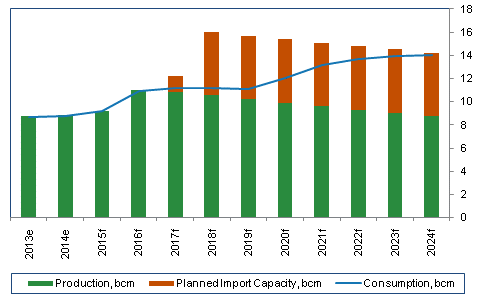 Vietnam- Natural Gas Production, Import Capacity and Consumption (Cr: BMI Research)
Aside from crude oil, Vietnam is rich in natural gas, too. It has proven gas reserves of almost 7 trillion cubic feet in serveral fields – eg., Cuu Long basin offshore from Mekong Delta in Southern Vietnam, Tien Hai (Thai Binh), Lan Tay/ Lan Do in Nam Con Son basin off South Vietnam, etc. Vietnam's natural gas production and consumption have been increasing rapidly since the late 1990s, and mainly for domestic demand. According to BMI Research (UK), its consumption in Vietnam will grow strongly by almost 60% over the next decade because of wider application of CNG-fuelled vehicles in the transportation sector and increasing gas-fired electricity generation in the power sector. This will lead to the country's gas demand increasing at averagely 4.9% per year over the next decade, from 8.8 bcm in 2014 to 14.1 bcm in 2024. LNG imports are anticipated to entail.
3. Refinery and petrochemical industry – Growing sector in Vietnam and Great interest to foreign investors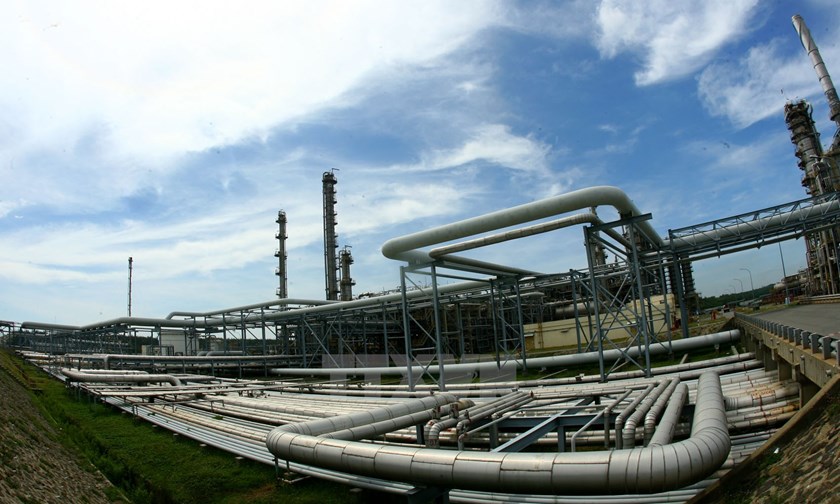 The refinery Dung Quat in the central province of Quang Ngai
Under Vietnam's WTO commitments, in the upstream segment, foreign companies are allowed to explore oil and gas independently. Though there requires the presence of PVN – one of biggest players in Vietnam oil and gas - in all producing projects, international oil companies are allowed to hold majority stakes and gain a share of output. Meanwhile, in the downstream segment, the Vietnamese government has allowed the involvement of private sector and foreign companies. That means capital, expertise and advanced technology are being brought in to help enhance refining capacity in Vietnam. With the government's openness to foreign partnership, more and more companies have interests in Vietnam's refinery and petrochemical sector, especially partners from Japan, Kuwait, Thailand, UK, Russia, the U.S, India, South Korea.
Dung Quat (Quang Ngai province) - the first refinery in Vietnam - came into operation in 2009. The foreign oil companies, including Essar Group (India), Royal Dutch Shell (Netherlands) and SK Energy (South Korea) were negotiated to upgrade and sell part of this refinery. The refinery's maximum capacity is 6.5 million tons of crude oil/ year, equally to 148,000 barrels/ day.
Another project is Nghi Son refinery (Thanh Hoa province). This is a joint venture between Vietnam's oil and gas major PVN (contributing 25.1% of the capital) and international companies, including, Kuwait Petroleum International and Idemitsu Kosan (Japan) (each holding 35.1%), while another Japanese company, Mitsui Chemicals, has the remaining 4.7% of stake. Nghi Son is the second and largest oil refinery project in Vietnam. It's expected to operate in 2017 and reach the maximum capacity of 10 million tons in 2018.
Vietnam is planning to construct some refineries – they are: Long Son refinery (Vung Tau province), Van Phong refinery (Khanh Hoa province), Vung Ro refinery (Phu Yen province).
4. Oil and gas manpower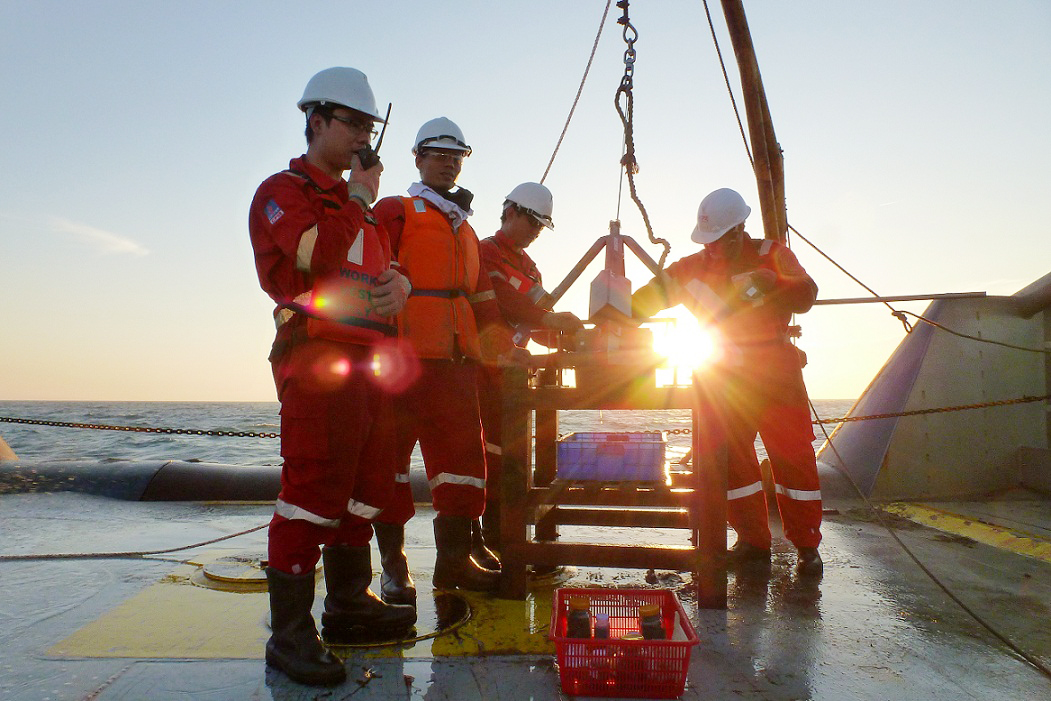 Vietnam has been one of the top attractions to foreign investors in oil and gas not only because of the changes to government policies – i.e. allowing foreign ownership of larger companies, significant investment in infrastructure, but also because of this country's well-educated workforce.
Indeed, this sector growing fast in Vietnam has been attracting lots of workers and induces more investment in HR development. There were about 2,000 employees in the industry in 1975 when PVN was founded; 21,000 in 2005; 35,000 in 2009; 44,000 in 2010; 60,000 in 2011. During 2012-2015, the oil and gas industry maintained hiring a secure number of workers in oil and gas sector. Workforce in this sector is well trained at higher level than workers in other sectors. 90% of workers are involved in long-term training. The rate of employees with higher education or above level is high, too, and increasingly higher. Plus, Vietnam manpower has more opportunities to access advanced technologies followed by the country's expanding exploitation, oil production and refining. Despite higher accessibility to technologies, that still doesn't fully the demand. That's why with eagerness to learn, more and more workers in Vietnam have chosen to work in foreign countries like Dubai to be upgraded with cutting-edge technologies aside from, of course, earning more money.
Overall,
Under SWOT, Vietnam oil and gas sector has these strengths, weaknesses, opportunities and threats:
Strengths

Weaknesses

+ Vietnam's consumer markets are generally secure – eg. domestic consumption, U.S, Singapore, Japan, China, Netherlands, Malaysia.

+ This sector is favored in Vietnam because it is the key to the national security and economic development.

+ The oil and gas sector in Vietnam has been more accessible to advance technologies as a result of the country's expanding offshore exploration and production.

+ There are quite abundant well-educated workers.

+ There are available attractive occupation opportunities.

- PVN is controlled by the State, so flexibility in business operations is low, and dependence on the State's support is high.

- Despite higher accessibility to cutting-edge technologies, that's not enough to fully meet the demand.

Opportunities

Threats

The sector will be entitled to many privileges because it has been under the auspices of the State. For example, enjoying big investment in oil and gas projects, HR development.
Vietnam has not found proper alternative energies. The energies from sun, wind, waves, etc. ask for high investment while having low efficiency. Nuclear energy is very effective though, it encounters quite fierce opposition due to the toxic effects of radioactive waste.
This sector in Vietnam has been attracting more and more foreign investors as a result of changes of government policies and well-educated workforce.

Crude oil reserves have been declining due to higher operating speed than the speed of exploration.
​